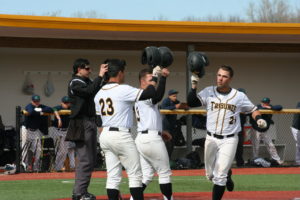 By PAUL GOTHAM
ROCHESTER, N.Y. — The late Chuck Berry blaring through the loudspeakers said it all: "Go Johnny Go!"
Go is what Monroe Community College's Johnny Ricotta did Saturday afternoon. The sophomore first baseman drove in eight going 5-for-5 with three home runs and a double as the Tribunes rallied to defeat the Mercyhurst NE Saints, 12-4 in game two of a conference doubleheader.
Ricotta connected on a 400 foot two-run bomb in the first, a solo shot to lead the seventh and a three-run blast in the eighth. In the process, the Greece Athena alum established a single-season program record with his 13th home run of the campaign.
"It means a lot to me especially because of how hard I've worked throughout my life," Ricotta said of establishing the MCC Tribune record. "I definitely will never forget that. It's something I will cherish for the rest of my life."
Ricotta jumpstarted the Monroe offense with his first inning blast – a shot which from the instant it left his bat was destined to land on the other side of the fence. It was just a matter of how far away from home plate it would land.
"I expect a lot of off-speed especially from these guys because they've known me for two years," he explained. "I really try not to do too much."
The 5-foot-9 right-hander singled in a run in the third, doubled and scored in the fifth and his three-run dinger in the eighth put the game out of reach.
"Just try to square it up, and I'm good at reading curve balls out of the hand. When I see that and it hangs I just try to square it up."
Damian Clarke made his longest appearance of the season on the mound allowing four runs on seven hits over eight-plus innings of work.
"I stayed away from a lot of fastballs today," the left-hander explained. "I was throwing a lot of change ups and curveballs, trying to keep them off balance keep them guessing."
After surrendering a pair of two-out hits in the first and giving up a pair of walks in the second, the Carlisle, Ontario native settled in and retired 10 straight allowing just two balls out of the infield during the stretch.
"I was trying to throw strikes and work ahead of hitters. It seemed to work. They were hitting the ball and rolling over a little bit more."
Clarke struck out six and improved to 4-0 on the season.
"He has such a high baseball IQ and knows exactly who he is," Monroe coach Dave Brust said. "That's what makes him so good."
Bubba Boutelle led the Tribune first with a single up the middle. Jordan Kowalski walked, and Ricotta hit his first of three round trippers.
Alex Canty started the third with a triple to right center. Ricotta singled home Canty. Nick Rubino moved the runner with a sacrifice bunt, and Ricky Sisto delivered with an RBI base hit.
Ricotta opened the fifth with a double. Rubino reached on a fielder's choice when Ricotta beat a throw back to the bag at second. Ricotta and Rubino worked a double steal, and Sisto plated both with a single. Andrew Czubaj made it an 8-1 game with an RBI sacrifice fly.
Ricotta homered to start the seventh. Boutelle was hit by pitch with one out in the eighth. Canty reached on a walk to set the table for Ricotta who broke the program record previously shared by Brian Stevens (1989) and Nelson Santos (2006).
"He's a special kid, a class kid," Brust said. "Everything he has achieved has come from the hard work he puts in. He gets it done on the field and in the classroom."
Canty managed two of Monroe's three hits in the opener – an anemic 12-0 loss. Mercyhurst NE's Dalton Donachie started and pitched a complete game (seven innings) for the win. The right-hander was perfect through the first 11 batters and did not allow a runner past second base.
The doubleheader split sets up a pivotal contest on Sunday with the winner gaining home field advantage in the upcoming Region 3 Division II tournament.
A 1 PM first pitch is scheduled Sunday at Tribune Field.