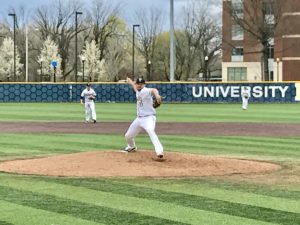 By PAUL GOTHAM
Little more than a week removed from a pair of one-run losses to cross-town rival and reigning state finalist Webster Schroeder, Kevin Neenan's Webster Thomas Titans put together a full-team effort on Friday. Their captain's performance on the mound set the tone.
Ryan Mason hurled seven complete as Webster Thomas defeated the Rush-Henrietta Royal Comets, 7-1 in Monroe County League action at the University of Rochester on Friday.
Mason struck out two and allowed six hits as the Titans improved to 5-2 on the season knocking off the previously undefeated Royal Comets.
"He's a gamer," Neenan said of his starter. "He wanted the ball. In the beginning of the week we talked about it, and he wants the ball in that situation. He's our leader. He's our captain. You can just see the focus he had today. He just came through."
After surrendering three walks in the first two innings, the 6-foot-3 right-hander retired 12 of the last 14 he faced getting 13 infield outs including six on ground balls.
"The first two innings I thought he struggled a little bit getting it over and then he just battled and got better," Neenan said. "His off-speed wasn't as good as it's been, but it was enough to move it around a little bit. He located a little better today. That was good to see."
Thomas pushed three across the plate – all with two outs – to take a commanding lead in the third. Damian Wright plated Ryan Hill with a double to right field. Mason walked, and Joe Paul brought in a run with a bloop single. Mason scored when Paul broke off first and drew a throw.
"We strung some good at-bats together," Neenan said. "Two situations we got bunts down, and then we executed and knocked the runs in."
Ryan Carragher singled in a run in a two-run fifth, and Mason scored two with a single to left in the sixth.
"We got to execute the small ball at times and then we need guys to step up and come through. Guys came up big."
The Titans top of the order – Hill, Carragher, Devin Mulcahy and Wright – combined to get seven of Thomas's nine hits and score six runs.
"That's a great win for us. Very good win for our kids. We've been talking about it. We were close last week against Schroeder twice. We're right there it's getting the kids to believe a little bit. Kinda put together a complete game today. I thought the kids did a great job in every facet – hitting the ball when we needed to, pitching and defensively we played really well."
Rush-Henrietta's Aaron Shoemaker singled and scored on Lucas Haefner's two-out base hit in the fifth. Haefner finished 2-for-3 on the day.
Webster Thomas will play at Hilton on Saturday. An 11 AM first pitch is scheduled.
Rush-Henrietta plays at Spencerport on Saturday. A 2 PM start is slated.