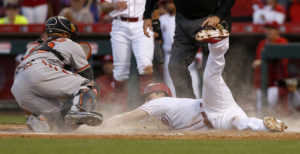 CHICAGO WHITE SOX (7-6) 4
NEW YORK YANKEES (9-5) 1
NEW YORK, NY– Avisail Garcia's three-run home run in the seventh inning propelled the White Sox over the Yankees, whose eight-game winning streak was snapped. Miguel Gonzalez lasted eight-and-one-third inning for the White Sox, allowing one run on four hits and one walk. Luis Severino let up four runs (three earned) on three hits and struck out 10 over eight innings for the Yankees.
BOSTON RED SOX (9-5) 8
TORONTO BLUE JAYS (2-11) 7
TORONTO, ON– Mookie Betts and Mitch Moreland combined for six hits and five RBI in the Red Sox win over the Blue Jays. Brian Johnson started for the Red Sox, going five innings and surrendering four runs on seven hits and three walks. Ezequiel Carrera contributed a two-run home run as the Blue Jays attempted a bottom-of-the-ninth comeback. Marcus Stroman struggled on the mound for the Blue Jays, letting up six runs on 11 hits and a walk in four-and-two-thirds innings.
CINCINNATI REDS (9-5) 9
BALTIMORE ORIOLES (8-4) 3
CINCINNATI, OH– Adam Duvall connected on a grand slam and drove in five runs to help the Reds to a win over the Orioles. Bronson Arroyo gave the Reds five innings of three-run, five-hit and two-walk ball. Adam Jones plated two of the Orioles' three runs on a home run in the fifth inning. Kevin Gausman allowed eight runs on eight hits and three walks in just two-and-two-thirds innings of work.
PHILADELPHIA PHILLIES (5-8) 6
NEW YORK METS (7-7) 2  in 10
NEW YORK, NY–Daniel Nava added the final two runs to the Phillies' four-run tenth inning, beating the Mets in extra innings. Zach Eflin had the mound for the Phillies to start, going five innings and giving up two runs on three hits and three walks. Zach Wheeler allowed one run on four hits and two walks in five innings for the Mets.
TAMPA BAY RAYS (7-8) 5
DETROIT TIGERS (8-5) 1
ST. PETERSBURG, FL– Tim Beckham went 2-for-4 with two RBI (on a home run) and two runs scored as the Rays beat the Tigers at home. Matt Andriese held the Tigers to one run, four hits and one walk in six innings. Miguel Cabrera picked up the Tigers' only run with a solo home run in the first inning. Reigning American League Rookie of the Year Michael Fulmer got the start for the Tigers, going six innings and letting up three runs on six hits and a pair of walks.
WASHINGTON NATIONALS (8-5) 3
ATLANTA BRAVES (6-7) 1
CUMBERLAND, GA– Ryan Zimmerman finished 2-for-3 with one RBI in the Nationals' road win over the Braves. Max Scherzer threw seven scoreless innings with two hits and three walks for the Nationals. Mike Foltynewicz tossed seven innings and allowed two runs on five hits and four walks.
CHICAGO CUBS (7-7) 9
MILWAUKEE BREWERS (8-7) 7
CHICAGO, IL– Albert Almora Jr. knocked home two runs during a four-run sixth inning which gave the Cubs the lead and eventually the win over the Brewers. Brett Anderson was forced out of the game for the Cubs after allowing six runs and eight hits in three-and-two-thirds innings. Travis Shaw brought home three runs on three hits in four at bats for the Brewers. Jimmy Nelson's day ended after five-and-one-third innings and seven runs, nine hits and one walk surrendered.
CLEVELAND INDIANS (7-7) 11
MINNESOTA TWINS (7-7) 4
MINNEAPOLIS, MN– Edwin Encarnacion gave the Indians three runs, two of which came on a home run, in the win against the Twins. Josh Tomlin ate up seven innings of three runs on seven hits for the Indians. Phil Hughes left after giving up six runs (four earned) on eight hits in three-and-two-thirds innings.
COLORADO ROCKIES (10-5) 4
LOS ANGELES DODGERS (7-8) 3
LOS ANGELES, CA– Nolan Arenado picked up three hits, including two home runs, and three RBI as the Rockies defeated the Dodgers. Kyle Freeland gave the Rockies four innings of one run, four hits and four walks allowed. Hyun-Jin Ryu gave up four runs on seven hits and one walk in six innings.
LOS ANGELES ANGELS (7-8) 5
HOUSTON ASTROS (9-5) 2
HOUSTON, TX– Albert Pujols smacked a three-run home run in the fifth inning to help the Angels get a road win against Houston. Ricky Nolasco made it six innings for the Angels, letting up two runs on eight hits. Joe Musgrove was credited with five runs allowed on eight hits and one walk in five innings.
SAN FRANCISCO GIANTS (6-9) 2
KANSAS CITY ROYALS (6-7) 1  in 11
KANSAS CITY, MO– Joe Panik singled home the eventual game-winning run in the eleventh inning, leading the Giants to the extra innings win over the Royals. Matt Cain tossed seven innings for the Giants and allowed on run on four hits and two walks. Jason Hammell nearly matched Cain, surrendering one run on six hits and one walk in six innings.
ST. LOUIS CARDINALS (5-9) 2
PITTSBURGH PIRATES (6-8) 1
ST. LOUIS, MO– Stephen Piscotty and Greg Garcia drove in the two runs needed to give the Cardinals the win over the Pirates. Mike Leake kept the Pirates to one run and seven hits in six-and-one-third innings pitched. Chad Kuhl lasted six innings while allowing two runs on three runs and one walk.
OAKLAND ATHLETICS (6-8) 4
TEXAS RANGERS (5-9) 2
OAKLAND, CA– While all six combined runs were scored in the sixth inning, Adam Rosales chipped in for the difference, hitting a two-run home run as the A's managed to beat the Rangers. Neither of Andrew Triggs runs allowed were earned runs, as he also allowed three hits in his six innings of work. Yu Dravish finished his day with four runs, three hits and two walks let up in five-and-one-third innings.
MIAMI MARLINS (8-6) 5
SEATTLE MARINERS (6-9) 0
SEATTLE, WA– Justin Bour led the Marlins with two RBI, both on a third-inning home run, in the win over the Mariners. Wei-Yin Chen pitched seven scoreless innings for the Marlins, who nearly no-hit the Mariners. Mitch Haniger got the Mariners only hit with one out in the ninth inning. Yovani Gallardo did not fair as well, letting up four runs on nine hits in six innings.
ARIZONA DIAMONDBACKS (10-5) 11
SAN DIEGO PADRES (5-10) 2
SAN DIEGO, CA– Yasmany Tomas highlighted the Diamondbacks offense with a three-run home run in the fifth inning, leading to the blowout win against the Padres. Shelby Miller threw seven-and-one-third innings for the Diamondbacks while giving up one run, four hits and two walks. Jarred Cosart was taken out after three-and-two-thirds innings, allowing three runs (one earned), two hits and two walks.