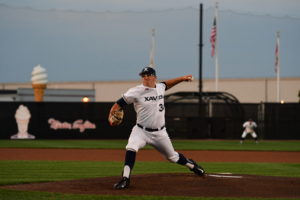 Courtesy of GoXavier.com
NEW YORK – Junior lefty Zac Lowther was named BIG EAST Pitcher of the Week on Monday after shutting out Seton Hall for six innings on national TV last Thursday.
Teammate Chris Givin was also named to the weekly honor roll after hitting .400 in a 2-2 week for XU.
Lowther, recently named to Baseball America's List of Top 100 MLB Draft Prospects, struck out nine Pirates at Prasco Park while allowing just two hits to improve to 3-2 on the year. It was the Brooklyn Heights, Ohio native's fourth straight game with at least nine strikeouts, as he has now fanned 46 in his last 25.1 innings.
In BIG EAST play, Lowther has been electric with a 0.64 ERA and 25 strikeouts in 14 innings spanning two starts. In those outings, he has held opponents to a .047 batting average and just two hits.
Givin led the XU offense with a .400 week at the plate, going 6-for-15 with a homer, three runs and four RBI. He walked twice to post a .471 on-base percentage and had a hit in all four games last week.
Against Seton Hall, the Castle Rock, Colo. native had a pair of two-hit games and hit a go-ahead, two-run homer in the fourth inning of a 2-1 win over Seton Hall on Thursday.
He was also perfect on the basepaths and in the field, stealing three bases in three attempts and playing error-free defense at shortstop in four games, recording six putouts an 10 assists.
The Musketeers (20-16, 3-3 BIG EAST) return to action on Tuesday for the Joe Nuxhall Classic, facing crosstown rival UC in a 6:30 p.m. game at Marge Schott Stadium.