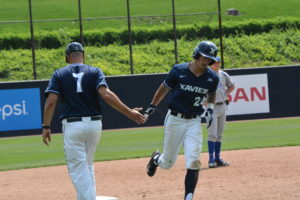 Courtesy of GoXavier.com
CINCINNATI – Junior Mitch Gallagher was a home run shy of the cycle, pacing a 14-hit day for the Musketeers as Xavier baseball won 9-0 against visiting Seton Hall on Saturday at Hayden Field.
XU also got home runs from junior Rylan Bannon and senior Matt Fallon, as Greg Jacknewitz, David Williams and Taylor Williams combined for a shutout.
The win clinched the weekend series for Xavier, which improves to 20-16 overall (3-3 BIG EAST).
Seton Hall falls to 16-16 overall (2-4 BIG EAST).
XU AT THE PLATE
• Mitch Gallagher went 4-for-5 with three RBI at the plate, falling a home run shy of the cycle.
• Matt Fallon was 3-for-5 on the day, hitting his second home run of the weekend in as many games.
• Rylan Bannon went 2-for-5, driving in three runs, two of which came off his ninth homer of the season. He has now reached in 11 straight games to lead XU.
• Chris Givin had a 2-for-4 day, scoring a run and finishing the weekend with a .500 batting average (5-for-10) to go with a homer and three RBI.
• Blaine Griffiths (1-for-3) extended his personal hitting streak to four straight games, while walking for the sixth time in his last three starts.
• Conor Grammes contributed his team-leading 16th multi-hit game of the season, going 2-for-4.
• Will LaRue also added a hit in a 1-for-4 day with a run scored. LaRue is now batting .333 (22-for-66) over his last 20 games.
• The Musketeers worked one walk as a team and have had a base on balls in all 36 games this season.
XU ON THE MOUND
• Greg Jacknewitz turned in another solid performance on the mound, pitching six inninngs and striking out two. Jacknewitz gave up five hits in the outing, improving to 2-3 on the season.
• Jacknewitz's strong start continued a stellar series for XU starting pitching, as Jacknewitz, Garrett Schilling and Zac Lowther did not allow an earned run all weekend. The threesome posted 17 innings, allowing 12 hits and striking out 13 Pirates while just ceding one run.
• In relief, the hard-throwing David Williams struck out three of the six batters he faced. The freshman allowed just one hit in two scoreless frames.
• Taylor Williams closed out the win for the Musketeers, working around a walk in the ninth.
• The three combined for Xavier's second team shutout of the season. The first came back on March 10 at Southern Miss in a 2-0 win.
HOW XU SCORED
SECOND INNING: Chris Givin and Blaine Griffiths hit back-to-back singles to open the frame for the Musketeers. Nate Soria moved the runners over with a well-placed sacrifice bunt, leaving both runners in scoring position. Matt Fallon then blasted a ball right up the middle off pitcher Billy Layne Jr. to score Givin. Gallagher then tripled off the left center wall to score Fallon and Griffiths, making it 3-0 Xavier.
FOURTH INNING: Will LaRue started the action with a lead-off double, followed by a Fallon ground-out to advance him to third. Gallagher singled to left, pushing home LaRue. Rylan Bannon followed with a double off the wall in left center to score Gallagher, making it 5-0 Xavier.
SIXTH INNING: Matt Fallon was hit by a pitch to begin the inning and followed by a double by Gallagher, placing both in scoring position. Gellenbeck had a sacrifice fly to left, bringing home Fallon and making it 6-0 Xavier. Rylan Bannon followed it up with a homer over the left field netting to bring home two more.
SEVENTH INNING: Matt Fallon finished off the scoring by hitting a solo shot to left, giving Xavier a 9-0 advantage.
UP NEXT
• XU makes a short trip over to Marge Schott Stadium to take part in the 2017 Joe Nuxhall Classic against crosstown rival UC. First pitch is scheduled for Tuesday night at 6:30 p.m.