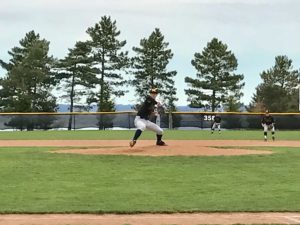 By PAUL GOTHAM
ITHACA, N.Y. — Tim Brown hurled six shutout innings and picked up his first career win as the Monroe Community College Tribunes defeated Ithaca College JV, 9-1 in the opener of a twinbill on Valesente Diamond at Freeman Field.
Brown struck out two, walked one and allowed three hits in his longest outing of the season. The freshman left-hander started and tossed 3.2 scoreless frames in Monroe's 9-7 loss to Northampton Community College last Saturday. He allowed one run on one hit over three complete in MCC's 10-1 win over Utica College JV on March 30th.
Monroe got all the runs it needed with one swing of the bat in the fourth inning. Matt Wagner plated a pair with a two-out triple giving the Tribs a 3-0 lead. Nick Rubino and Brent Turpyn rapped back-to-back one-out singles to start the rally, and Wagner followed one out later with his first career extra-base hit.
Bubba Boutelle brought home Wagner with a run-scoring single up the middle.
Rubino added a run in the fifth with a sacrifice fly scoring Alex Canty.
MCC sent seven to the plate and put the game out of reach in the sixth. Nick Ficarella doubled down the right field line for his first hit of the season. Wagner reached when his sacrifice bunt was mishandled, and Boutelle delivered a two-run double to right field. Canty and Ricky Sisto added RBI singles, and the Tribs led 9-0.
But the Black and Gold managed just six hits over the next seven innings including the first six frames of game two and fell 5-3 in the nightcap.
Trailing 5-0 going into the seventh inning of the second game, Johnny Ricotta jump started Monroe with a solo shot through through the pines in left field. Ryan Brown and Rubino reached on back-to-back infield singles, and Turpyn drove in a run with a base hit. An error on the play scored Rubino. MCC brought the tying run to the plate without any outs but did not capitalize.
Damian Clarke came out of the bullpen and threw shutout innings. The left-hander struck out two, retired the first six he faced and allowed just one hit – an excuse-me single to shallow left field to the first batter he faced in the sixth. He set down the side on two ground balls and an infield pop up.
Ricotta collected three hits on the day including his ninth home run of the season.
Ryan Brown finished 2-for-2 with a run scored.
Boutelle was 3-for-8 with three RBI and four stolen bases.
Turpyn had three hits in six trips to the plate.
Rubino collected two hits, two runs and an RBI.
Frankie Pizzo was 3-for-6.
Monroe is 12-16 on the season and will play two at Genesee Community College on Saturday.