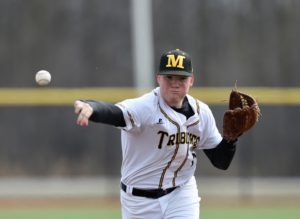 By PAUL GOTHAM
NORTH EAST, PA. — Colin Johnston allowed three runs on five hits over seven innings, and the Monroe Community College Tribunes opened Region 3 play with a 9-3 victory over the Mercyhurst NE Saints at Phillip D. Hirtzel Field, Tuesday.
Johnston struck out eight, walked one and improved to 3-2 on the season.
"I was just pounding the zone with fastballs," Johnston explained. "Later on in the game I started missing those spots, was leaving it over the plate. That's when I had to go to the slider and change up more."
The sophomore right-hander threw 96 pitches – 66 for strikes and matched his longest outing of the season.
"I had a quick sixth and just kinda gave coach the look that I wanted to go back out. I would have gone all nine if needed."
Showers delayed the start of game one, but didn't slow Johnston who retired the first nine batters he faced.
"The conditions weren't as bad as I thought they would be. The field wasn't too drenched. The mound was dug out, but you just got to deal with it."
Brent Turpyn paced a 15-hit attack as the Tribunes grabbed a 3-0 in their first at bat and never looked back. Turpyn finished 3-for-4 with a walk, double and a run scored.
Alex Canty got Monroe on the board early when he plated Frankie Pizzo with a two-run home run in the top of the first. Ricky Sisto walked, moved to third on a Nick Rubino single and scored on an error for the 3-0 Tribune advantage.
Rubino pushed the lead to 5-0 with a two-run shot in the third.
"We got out and scored early," Johnston said. "Died out a little at the end, but it's big pitching with the lead. It gives you so much more confidence."
Canty and Johnny Ricotta drilled back-to-back two-out RBI doubles in the fourth to make it a 7-0 game.
Canty and Ricotta knock back-to-back 2-out RBI doubles. Mid-4: @MCCTribunes 7-0 pic.twitter.com/jjrsk3bHJ7

— Paul Gotham (@PickinSplinters) April 11, 2017
Andrew Czubaj drove in a run in the ninth
Damien Clarke hurled two scoreless innings of relief. The left-hander struck out four of the seven he faced and allowed just an infield single.
Rubino went 2-for-3 with two walks, two runs scored and two RBI in the opener. Canty drove in three and scored three times with two hits and a walk.
Ricotta collected three hits in the nightcap including two home runs and a double, but it was not enough as the Tribunes fell 14-6.
Mercyhurst NE led 6-3 after two innings and 9-3 after four.
Hank Buholtz came out of the bullpen and allowed three runs over four innings.
Monroe rallied on the road Sunday to take game one of a doubleheader with Lackawanna College. Buholtz allowed two hits over 3.2 shutout innings of relief, and Clarke picked up the win going 4.1 innings as the Tribunes won in 11, 13-9.
Ryan Brown went 3-for-6 including a two-run single in the 11th to score Sisto and Turpyn as MCC erased a seven-run deficit after four innings for the win. Rubino went 2-for-6 with a double, home run and three RBI. Ricotta also homered, walk three times and crossed the plate on three occasions in the comeback.
"The pieces are there," head coach Dave Brust said of his relievers referring Buholtz, Clarke and Ryan Marketell who threw three innings in Tuesday's nightcap. "It's a matter of getting them to work together."
Lackawanna won game two, 11-5.
Monroe is 11-15 on the season.
The Tribunes travel to play against Ithaca College JV on Thursday.