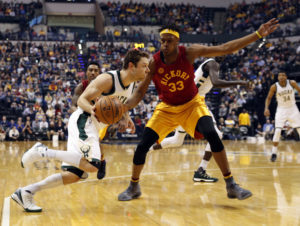 Atlanta Hawks 123 Boston Celtics 116
ATLANTA — Paul Millsap scored 26 points, Tim Hardaway Jr. added 23 and the Atlanta Hawks won for the first time three games with a victory over the Boston Celtics on Thursday night. Rookie Taurean Prince finished with a career-high 20 points, and Dennis Schroder added 18 on the night. Isaiah Thomas scored 35 points, Jae Crowder had 24 and Marcus Smart 18 for the Celtics. They have dropped two in a row after winning five of seven.
Chicago Bulls 102 Philadelphia 76ers 90 
PHILADELPHIA — Jimmy Butler recorded a triple-double (19 points, 10 rebounds and 10 assists) and helped give Chicago's (39-40) playoff hopes a needed boost in the Bulls' victory over the 76ers (28-51) on Thursday night. Jerian Grant scored 15 points and Nikola Mirotic scored 22.  Timothe Luwawu-Cabarrot led the 76ers in the scoring department as he dropped 18 points.
Indiana Pacers 104 Milwaukee Bucks 89
INDIANA — Paul George had 23 points and 10 rebounds and the Indiana Pacers beat the Milwaukee Bucks on Thursday night to keep their playoff hopes alive. Point guard Jeff Teague scored 15 points and had seven assists for the Pacers, Thaddeus Young had 12 points, and Lance Stephenson had nine in his third game back with Indiana. Indiana has three games remaining in the regular-season. Giannis Antetokounmpo led Milwaukee with a game-high 25 points, seven rebounds, and six assists. He scored 16 points in the first half to help the Bucks keep pace, but Indiana kept him in check in the second half and pulled away. Mirza Teletovic added 15 points off the bench for the Bucks.
Orlando Magic 115 Brooklyn Nets 107
ORLANDO — Elfrid Payton had 22 points, 11 assists and five rebounds to help the Orlando Magic beat the Brooklyn Nets on Thursday night. Jodie Meeks contributed with 20 points to help Orlando end a five-game losing streak. Jeremy Lin led Brooklyn in the scoring department with 32 points, and Caris LeVert added 20.
Washington Wizards 106 New York Knicks 103
NEW YORK — Bradley Beal scored 25 points and made the tiebreaking 3-pointer with 49 seconds left as the Washington Wizards (48-31) beat the New York Knicks (30-49) on Thursday night. John Wall added 24 points and eight assists for the Wizards, who blew a 12-point lead in the fourth quarter but recovered to improve to 48-31, tying Toronto for third place in the Eastern Conference. Washington is trying for its first 50-win season since 1978-79. Carmelo Anthony scored 23 points for the Knicks, who are a loss away from their third consecutive 50-loss season.
Portland Trail Blazers 105 Minnesota Timberwolves 98
PORTLAND — Allen Crabbe had 25 points, including a career-high eight 3-pointers, and the Portland Trail Blazers (39-40) beat the Minnesota Timberwolves (31-47) on Thursday night to snap a two-game losing streak. Damian Lillard added 22 points, nine rebounds and eight assists for Portland, which held onto the eighth and final playoff spot in the Western Conference at 1 1/2 games ahead of the Denver Nuggets with three games to go to in the regular-season. Andrew Wiggins had 36 points for the Timberwolves, who have already been eliminated. Karl-Anthony Towns recorded a double-double (24 points and 16 rebounds).