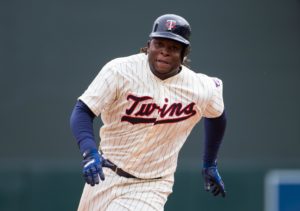 Boston Redsox (2-0) 2
Pittsburgh Pirates (0-2) 0
BOSTON — Sandy Leon prolonged the game with a baserunning mistake in the third inning. When Boston's catcher came up in the 12th, he ended it. Leon hit a three-run homer — the first walk-off of his career — and Chris Sale pitched seven innings of three-hit ball in his Red Sox debut to lead Boston to a victory over the Pittsburgh Pirates on Wednesday night. Joe Kelly (1-0), the sixth Red Sox pitcher, earned the victory with two innings of one-hit relief as the Red Sox won their seventh straight interleague game at Fenway Park. The Pittsburgh Pirates did not get a runner past first base.
Atlanta Braves (1-1) 3
New York Mets (1-1) 1
NEW YORK — Bartolo Colon returned to Citi Field and made a sharp debut for his new club, and Matt Kemp's third double of the game in the 12th inning lifted the Braves over the Mets on Wednesday night. Kemp's two-out, bases-loaded liner off Rafael Montero (0-1) helped the Braves bounce back from losing on opening day. Jim Johnson (1-0) worked two scoreless innings. Jacob deGrom threw six shutout innings for the Mets. The shaggy-haired ace needed surgery last September to reposition a nerve in his pitching elbow. He gave up two hits, struck out six and only walked one batter.
Minnesota Twins (2-0) 9
Kansas City Royals (0-2) 1
MINNESOTA — Eduardo Escobar homered and drove in four runs and Miguel Sano added a bases-loaded triple to lead the Minnesota Twins to a victory over the Kansas City Royals on Wednesday. Hector Santiago (1-0) gave up one run and four hits and struck out four in five innings for the Twins. After starting last season 0-9, the Twins are 2-0 for the first time since 2007. Ian Kennedy (0-1) gave up three runs and three hits with five strikeouts and five walks in five innings for Kansas City. Paulo Orlando drove in a run for Kansas City, who walked nine Twins batters on the day.
Baltimore Orioles (2-0) 3
Toronto Blue Jays (0-2) 1
BALTIMORE — Dylan Bundy struck out eight over seven impressive innings, and the Baltimore Orioles used home runs by Adam Jones and Chris Davis to beat the Toronto Blue Jays 3-1 Wednesday night. Making his 15th career start, Bundy (1-0) allowed one run and four hits. The 2011 first-round draft pick did not issue a walk and retired 14 of the last 15 batters he faced. J.A. Happ (0-1) struck out nine in seven innings. The left-hander gave up five hits and walked none.
Washington Nationals (2-0) 6
Miami Marlins (0-2) 4
WASHINGTON — Tanner Roark struggled in the first couple of innings as he allowed two runs, two singles, two hit batters, two walks, a wild pitch – a whopping 46 pitches. Things turned around right after those two rough innings as he retired 13 of the last 14 batters he faced helping the Nationals come back to beat the Miami Marlins as Ryan Zimmerman homered while Bryce Harper and Matt Wieters each drove in a pair of runs. Roark (1-0) allowed two runs and three hits, striking out six and walking two. Dan Straily (0-1), who gave up five runs in only 3.1 innings in his Marlins debut.
Tampa Bay Rays (2-1) 4
New York Yankees (1-2) 1
TAMPA BAY — Alex Cobb continued his comeback from Tommy John surgery that sidelined him most of the past two seasons, pitching into the sixth inning of a victory over the New York Yankees on Wednesday night. Building on five starts he made late last year, Cobb (1-0) only allowed one run and four hits in 5.2 innings. He struck out four and walked only one batter. Corey Dickerson and Derek Norris drove in two runs apiece for the Rays, who took two of three games from their AL East rivals to open a season with a series victory for the first time since 2012.
Jacoby Ellsbury had three hits, including a home run off Cobb in the second inning. However, the Yankees got little production from the heart of their lineup in the series. Chase Headley had his third straight multi-hit game for New York, going 2-for-3 to finish 7-for-11 in the three games.
Cincinnati Reds (1-1) 2
Philadelphia Phillies (1-1) 0
CINCINNATI — Brandon Finnegan needed one inning to work out his nerves, and he was nearly untouchable. Finnegan allowed only one single in seven innings, and Joey Votto homered for his first hit of the season Wednesday night, sending the Cincinnati Reds a win over the Philadelphia Phillies. Finnegan (1-0) gave up a walk and Maikel Franco's single to center in the first inning, but escaped the threat while throwing a lot of pitches. Nobody else reached base the rest of the way against him. The left-hander retired the last 19 batters he faced, fanning nine, and threw 88 pitches overall.
Milwaukee Brewers (1-2) 6
Colorado Rockies (2-1) 1
MILWAUKEE — Colorado manager Bud Black gave Wily Peralta all the credit for the Milwaukee Brewers' latest win over the Rockies. Peralta pitched five effective innings while Eric Thames, Travis Shaw and Jonathan Villar each homered to help the Brewers beat the Rockies Wednesday night. Peralta threw 90 pitches, 56 for strikes. Mark Reynolds had a run-scoring single off Taylor Jungmann in the ninth for the Rockies.
Cleveland Indians (3-0) 9
Texas Rangers (0-3) 6
TEXAS — Francisco Lindor's go-ahead grand slam in the ninth inning off suddenly shaky Texas closer Sam Dyson triggered a litany of firsts for Cleveland's budding star shortstop. The Rangers went ahead 4-3 in the fifth when Lindor misjudged Joey Gallo's speed, couldn't beat the slugger to second base on an attempted two-out force play and allowed two runs to score on an error when his throw to try to salvage an out surprised former Blue Jay Edwin Encarnacion and skipped off the first baseman's glove. Sam Dyson (0-2) loaded the bases and walked in a run before Lindor's homer down the right field line during a five-run Cleveland ninth. The Indians are 3-0 for the first time since 1998, while the Rangers last started 0-3 in 2007.
Houston Astros (3-0) 5
Seattle Mariners (0-3) 3
HOUSTON — George Springer wasn't quite sure if his towering fly ball was going to have enough distance. Instead, Springer's shot narrowly crossed the yellow line for a game-winning three-run homer in the 13th inning, capping a five-RBI game and lifting the Houston Astros to a victory over the Seattle Mariners on Wednesday night. Evan Gattis drew a one-out walk and advanced to second on Norichika Aoki's single with two outs, setting the stage for Springer's big hit.
James Paxton allowed just two hits, one walk and no runs in six innings, while striking out five for Seattle. Charlie Morton gave up the two runs and five hits with two walks while striking out four for the Astros.
Los Angeles Angels (3-0) 5
Oakland Athletics (0-3)
OAKLAND — Garrett Richards pitched beautifully while making his first appearance in 11 months after an elbow injury cut short his 2016 season, but left abruptly in the fifth inning with biceps cramping before the Angels beat the Oakland Athletics on Wednesday night. Richards struck out four and walked one, allowing three hits in 4.2 innings. JC Ramirez (1-0) worked 2.2 innings for the victory. Mike Trout recorded an RBI single to back Richards, the Angels' opening day starter a year ago. He pitched for the first time since last May 1. Danny Espinosa hit a two-run single one night after delivering a deciding three-run homer, and Andrelton Simmons doubled home a run in the second against Jharel Cotton (0-1).
Arizona Diamondbacks (2-1) 8
San Francisco Giants (1-2) 6
ARIZONA — Jeremy Hazelbaker had to pinch hit for starting pitcher Taijuan Walker. Hazelbaker delivered a one-out double that gave his team the lead, and the Diamondbacks rallied past the San Francisco Giants. Chris Owings reached safely four times and stole two bases, and the Diamondbacks scored seven consecutive runs in coming back from a three-run deficit. A.J. Pollock went 3-for-5 with an RBI and Yasmany Tomas had two hits and an RBI to help Walker win his Diamondbacks debut despite allowing four runs and seven hits in six innings.
Los Angeles Dodgers (2-1) 3
San Diego Padres (1-2) 1 
LOS ANGELES — Rich Hill pitched five innings of two-hit ball, Yasiel Puig hit his first home run of the season and the Los Angeles Dodgers beat the San Diego Padres on Wednesday night. Hill (1-0) struck out five, walked three and allowed Hunter Renfroe's homer in his first start since returning to the Dodgers on a free agent deal.
Trevor Cahill (0-1) allowed three runs over 5.2 innings in his first start with San Diego. Cahill was a reliever last season with the world champion Chicago Cubs but signed a one-year deal this winter to start for the Padres. He allowed five hits and three walks and recorded seven strike outs.