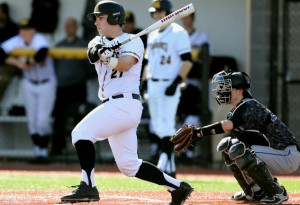 By PAUL GOTHAM
ROCHESTER, N.Y. —  A trio of Tribunes paced a 10-hit attack in the nightcap, and the Monroe Community College baseball team rallied for its second straight doubleheader sweep.
Bubba Boutelle, Johnny Ricotta and Brent Turpyn combined for eight hits in game two as MCC took two (10-1/10-3) from Utica College JV in non-league action Thursday on Tribune Field.
"It feels good," said Turpyn whose bases-clearing triple in the sixth inning helped blow open a two-run game. "The past week I've been pulling the ball a lot and during our off days I've been working on going the other way."
The freshman outfielder went opposite to drive in Alex Canty, Ricotta and Jake Hewitt with a drive into right center.
"It was a fastball on the outside half," Turpyn said. "I got the right pitch and did what I was supposed to do with it."
Turpyn went 3-4 in the second game driving in a least a run with each of his hits. In the fifth inning, he and Ricotta broke open a 3-3 game.
"I was just trying to get the ball in play and make something happen. Runners on and less than two trying to make a play."
Turpyn finished the day 4-6 with five RBI, two walks and a run scored.
"It's good to get his bat in the lineup," head coach Dave Brust said. "We needed it yesterday. We were a little flat at times. He had some big hits."
Ryan Marketell came out of the bullpen and worked two-plus innings for his first career win. The 6-foot-5 right-hander struck out four, walked one and allowed one hit. He entered the game with runners on the corners and one in. After surrendering an RBI double to the first batter he faced, Marketell retired the side on a comebacker and ground ball to short.
"Coach Brust preaches attacking the strike zone," Marketell said. "You can't worry about the runners. You got to go in there and attack the strike zone."
The Webster Thomas graduate did not allow a hit over the last two innings.
"I was keeping my front side solid and driving towards home plate," Marketell said of his approach. "My off-speed wasn't working well at all today really. You got to battle through the cold, show up and compete."
Nick Jackson got his first career start and tossed four shutout innings before running into trouble in the fifth. He allowed a leadoff single in the second and just two other runners through the first four.
"Was able to locate my fastball and find my spots," the former Greece Athena Trojan said. "I pitched to contact and let the defense do their work."
Boutelle got the Tribunes started with a leadoff single in the first. Nick Rubino followed with a triple to right field. Canty singled through the left side of the infield, and Turpyn followed two outs later with an RBI single to right field.
The win was the fourth straight for Monroe and seventh out of the last eight.
Stuart Martin hurled four shutout innings in game one for the win. The right-hander struck out the side in the sixth and seventh and finished the day with seven punch outs. He allowed one hit – a two-out single in the seventh – and allowed one walk.
"We really emphasize getting strike one, pitching ahead, challenging hitters and not giving away anything," Brust noted. "Ball four is dangerous, and Stu has really taken that to heart. His ability to pound the strike zone and command it with his fastball was exactly what he did yesterday."
Monroe scored four in the first. Two runs came home when Jonathan Catapano sent a drive to center that was misplayed. Justin Bunting followed with an RBI double down the right field line.
Canty and Ricotta collected an RBI apiece in a three-run second.
Rubino plated a run in the third, and Ricotta added an RBI triple in the fifth.
Rubino finished game one going 2-2 with a walk, hit by pitch, three stolen bases and three runs scored. The former Webster Thomas Titan finished the day 3-6 with five runs scored and two RBI.
Ricotta finished the day 3-6 with four RBI, three runs scored and two stolen bases. The sophomore first baseman paced Monroe with 65 RBI last year. An All-Region performer in 2016, he collected 21 extra-base hits and finished with a slugging percentage of .611.
"Expectations are dangerous," Brust said of the former Greece Athena Trojan. "Rico falls into the same trap that we all do. He will quietly produce runs. His success has led all of us to have expectations that at times are unrealistic. He needs to be where his spikes are, focus one pitch at a time and hit line drives to the center of the field."
Frankie Pizzo chipped in with an RBI sacrifice fly in game two.
Boutelle walked twice in game one, stole four bases and scored three runs on the day.
Monroe played errorless ball for the second time this week. MCC has two defensive miscues in 41 innings over its past six games. Monroe's infield turned one double play on Thursday and has turned the trick six times this week. On Sunday, the Tribs also had a double play started from the outfield.
Earlier in the week, Rubino shined in centerfield. Thursday, Ryan Brown made a pair of spectacular plays. The Tribune second baseman went to the turf to take away hit in the hole between first and second in the second of game two. His bare-handed exchange sealed the Tribs lone double play on the day.
"We certainly have guys who can play defense," Brust stated. "That's one of our foundational bricks to our team. The motto is take care of the baseball. They're are good defenders out there. Our job as a staff is to make sure we get guys in the right places and then we move them around the diamond and hopefully our pitchers pitch to the defense, and it all connects."
Monroe heads out for four games at Cuyahoga Community College (Ohio) this weekend. The Tribs and Tri-C are scheduled to play two games on Saturday and another pair on Sunday.