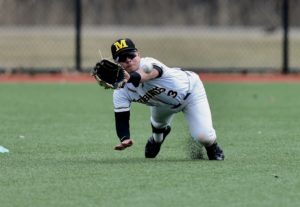 By PAUL GOTHAM
ROCHESTER, N.Y. — Alex Canty knows how to set the bar high.
On a day where the Monroe Community College baseball team pushed 23 runners across the plate, Canty drove in nearly half of the Tribunes runs.
Canty plated eight, and Monroe swept the Genesee Community College Cougars, 11-2/12-3 in NJCAA action Tuesday at Tribune Field.
With one swing of the bat, Canty helped turn a 3-0 Monroe advantage into a blowout.
"Just seeing fastballs, driving into gaps and trying to get the job done," the freshman shortstop said. "I'm in the batter's box just trying to care of the next pitch. That's the motto here."
Canty's second inning grand slam, his second of the season, in game one gave Monroe an 8-0 lead.
"I saw a fastball on a silver platter, and I just turned on it," he said. "It felt very good coming off the bat, really smooth. Hopefully I can continue it."
Nick Rubino started the scoring with a bases loaded walk. Canty delivered from there.
"Whatever last at bat really doesn't matter. Just stay focused for the next pitch. That's my approach. It's been working out."
The Batavia High School grad finished the day a single short of twin bill cycle. He cleared the bases with a two-out triple in the third frame of the nightcap. He followed with ground rule double in the fifth. He added a sacrifice and a base on balls.
Canty was part of an overall effort which saw the Tribunes score 23 runs on 17 hits for the day.
"We really talk a lot about driving in runs through right field and right center field," said Monroe head coach Dave Brust. "Hitting behind runners, I saw a lot of that today.
"Rolling over to the left side ultimately gets you nothing. I think we're getting guys to understand and buy into that. It's creating runs and ultimately helps us win baseball games."
Game one starter, Aaron Beck took advantage of the offensive output and hurled five-plus innings for his first win of the season. The right-hander struck out seven, walked two and allowed three runs, two earned.
"When the guys put up big runs like that, it's easy to go out and throw strikes," Beck said. "It was a good feeling on the mound when I went out. The fastball worked. Everything was all right. Just had to hold it together until the end."
In the second inning, Beck stranded a runner on third with a pair of punch outs. After GCC put the first two batters on in the third, the sophomore hurler set down the next three.
"He's got a lot of movement on his fastball and he's very aggressive," Brust stated. "He pitches inside. He never backs down. In a tough count, he usually makes a tough pitch. I was impressed but not surprised. He's got good stuff, and he's a big-time competitor."
Johnny Ricotta got Monroe on the board when he plated Bubba Boutelle and Rubino with a one-out single in the first.
Andrew Czubaj and Ricky Sisto added two hits apiece in the opener. Sisto led the third with a ground-rule double and scored one out later on Czubaj's two-bagger.
"Timely hitting, situational hitting whatever you want to call it we spend a lot of time with that," Brust explained. "When guys execute it's certainly beneficial all the way around. It helps us understand that's how you win baseball games."
Damian Clarke entered the game with one on and a run scored in the sixth and set down the side on his first pitch with a 5-4-3 double play. The left-hander, who struck out three over three shutout innings against Lackawanna on Sunday, retired all four batters he faced, fanning the last two.
"He's passionate," Brust said. "He's a guy who goes out there and wants to win."
Rubino reached base five times and scored four runs on the day. The Webster Thomas alum turned in a pair of sparkling plays in center field. He made a sliding catch in the second inning of game one. Three innings later, Rubino made a diving catch in the right center gap.
"He's really sophisticated with the way he positions himself ever so slightly," Brust noted. "He also gets a great read. He sees balls off the bat. He's running to the spot where the baseball is going to be. Really he's an average runner at times, but he makes up for that with fantastic reads."
Hudsen Hagland improved to 2-1 with a win in the nightcap.
Ricotta drove in four runs and scored three with three hits including two doubles.
Frankie Pizzo connected on his first home run of the season – a leadoff solo shot in the second inning of game two. Pizzo reached base all four times he went to the plate. The freshman third baseman scored twice.
Ryan Brown crossed the plate four times.
Sisto finished 2-4 with a walk, two hit by pitch and two runs scored.
Monroe has won five of six and hosts Utica JV on Thursday. A 1 pm first pitch is scheduled.