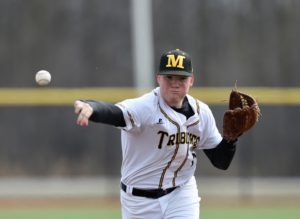 By PAUL GOTHAM
ROCHESTER, N.Y. — Colin Johnston hurled seven complete, and Monroe Community College Tribunes pounded out 12 hits en route to a 5-3 win over the Lackawanna College Falcons in the first game of a non-league doubleheader, Sunday afternoon.
Johnston struck out three, walked two and allowed four hits for his second win of the season.
"He's pitched well every time out," said fourth-year Tribune head coach Dave Brust.  "Commands the strike zone, controls the running game and the defense plays well behind him because of that. Our defense is solid and has the potential to be really good, but when C.J. pitches it is really good."
The sophomore right-hander retired the first nine batters he faced allowing just one ball out of the infield.
"His fast pace, his ability to throw strikes – he might be two walks per seven innings – that just makes any defense better," Brust added. "He just has a great feel for how to get guys out. He's a craftsman out there. It's fun to watch him pitch. He only gets better."
Jake Hewitt highlighted a four-run fifth inning with the first of three two-out run-scoring singles.
"It was good," Hewitt said. "We just started attacking the ball – seeing fastballs, and attacking."
The sophomore outfielder fought off a two-strike offering from Lackawanna starter Alex Varaksa and plated Nick Rubino with a single over the first-base bag.
"I was trying go away all day," Hewitt explained. "Finally made the adjustment, got a fastball away and just put a good swing on it."
Jordan Kowalski followed with a hit-and-run single, and Justin Bunting chased Varaksa with a run-scoring base rap to center field.
Andrew Czubaj  worked a walk to load the bases, and Ryan Brown gave Monroe its first lead of the day with a bases-loaded free pass.
Bubba Boutelle sparked the rally with a first-pitch, leadoff double to left field. Rubino got the Tribs on the scoreboard with a single through the left side of the infield.
"Our one through six (in the batting order), situationally, has been outstanding," Brust commented.  "Today I thought they were good again. They're older guys. They have a good feel for what they need to do. They're good hitters. We're in a good position when those guys are up. Whether they're in a two-strike situation, whether there's two outs. More times than not good things happen for us when those guys are up there."
Connor Perry led the Lackawanna fourth with a double. After Mike Villa walked, Zach Lopatka sent a sinking line drive to left field that scored two. Lackawanna looked ready to add another run on a sacrifice fly, but Hewitt fired a strike from right field to gun down Lopatka at the plate.
The Falcons added another run in the fifth when Luis Rodriguez led with a double and came home on a Jahmoi Percival sacrifice fly. It looked like the Tribunes would end the inning with their second straight double play from the outfield when Rubino came up throwing from center field, but Rodriguez was ruled safe at the plate.
Johnston allowed just one hit over the remaining two innings.
"Change up was working good, but they were hitting it," Johnston said. "Fastball low in the zone. I had that rough patch, but the guys got the lead back. It's a lot easier pitching with a lead."
Alex Canty and Johnny Ricotta connected on back-to-back one-out triples in the sixth to add an insurance run.
Bunting, Hewitt and Rubino collected two hits apiece in the opener.
Lackawanna's Kyle Rogers drove in two with a two-out RBI single in the third inning to give the Falcons all the runs they needed in a 2-1 win in the nightcap.
MCC looked poised to rally in the fourth when Ricotta worked a leadoff walk, and Hewitt singled over the third-base bag. But the Tribunes could not convert.
"We just needed one more hit in the game and we could have blown it open," Hewitt said. "We ultimately didn't get that."
Rubino walked with two outs in the fifth. Canty singled, and Rubino came around to score on a pair of errors.
Damian Clarke came out of the bullpen and tossed three shutout innings. Clarke gave up a leadoff walk but induced a ground ball for a double play. The left-hander retired the last seven he faced.
"The thing that Damien does really well even when he scuffles a little bit, he finds a way to get that ground ball," Brust said. "His stuff is slippery. He's a super-competitor. He doesn't have to be on his game. He just finds a way to grind through tough situations, and he bails himself out. His performance was basically how he's pitched all year. He's always in it.
Monroe hosts Genesee CC on Tuesday. A 1 pm first pitch is scheduled.