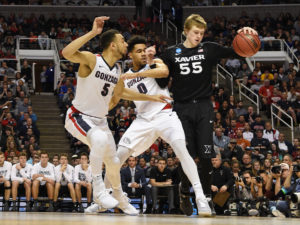 WEST REGION
No. 1 Gonzaga 83 No. 11 Xavier 59
Nigel Williams-Goss netted a game-high 23 points to send Gonzaga to their first Final Four in school history. Early on in the contest, Xavier played well enough to keep up with the Bulldogs and had their fans thinking of a possible fourth straight upset. Once Gonzaga got going though, those aspirations began to dissipate.
After being unable to find any kind of rhythm from behind the arc in their first three tournament games, the Bulldogs changed that against the Musketeers. The team finished 12 of 24 from three point range with eight of those made three pointers coming in the first half. However, the same could not be said for Xavier as Gonzaga's defense was on them all night. Ranked number one in defensive efficiency during the regular season, the Bulldogs limited Xavier's top shooter, Trevon Bluiett, who was averaging 25 points in the NCAA Tournament, to just 10.
With the win, Gonzaga moves to 36-1 and will take on the winner between South Carolina and Florida next week in Arizona. The Musketeers head home with a final record of 24-14.
MIDWEST REGION
No. 3 Oregon 74 No.1 Kansas 60
Tyler Dorsey scored 27 points to help his Oregon Ducks reach the Final Four for the first time since 1939. Also contributing to the win was Jordan Bell who compiled 11 points, 13 rebounds and 8 blocks. Once the Ducks took the lead with 16 minutes left in the first half, they never looked back.
Oregon had established an eleven-point lead going into the half as Dorsey hit back to back 3-pointers. In what was supposed to be as close to a home game as Kansas could get, the team struggled in front of their fans. Freshman sensation, Josh Jackson, went into foul trouble early and did not score until the middle of the second half while Devonte Graham could not find a rhythm. Leading the Jayhawks' efforts was Frank Mason III who scored 21 points in his final game in a Kansas uniform.
The Ducks improved to 33-5 and will face the winner of North Carolina and Kentucky. As for Kansas, what appeared to be a dominating tournament run has came to a rather abrupt end. They finish the season with a 31-5 record.