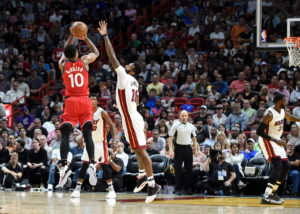 Toronto Raptors 101 Miami Heat 84
MIAMI – DeMar DeRozan scored 40 points, marking the first time he's had that many in consecutive games, and the Toronto Raptors (43-29) pulled off their 19th double-digit comeback of the season to beat the Heat (35-37). Toronto has now won 19 games this season after trailing by at least 10 points, more than any team in the NBA. Hassan Whiteside recorded a double-double (16 points and 14 rebounds) for Miami.
Dallas Mavericks 97 Los Angeles Clippers 95
DALLAS – Harrison Barnes made the go-ahead basket, then stole the ball from Blake Griffin with 3.9 seconds left as Dallas (31-40) beat the Los Angeles Clippers (43-30). Seth Curry led Dallas in the scoring department with 23 points. Barnes finished with 21 and Dirk Nowitzki had 14 on the night. Blake Griffin scored 21 points for the Clippers, including nine in a row in the fourth quarter, but he missed his last three shots and turned the ball over four times in the game. DeAndre Jordan had 14 points and 18 rebounds for the Clippers. Chris Paul scored 15 points and Austin Rivers finished with 13.
Brooklyn Nets 126 Phoenix Suns 98
BROOKLYN – Brook Lopez scored 19 points, K.J. McDaniels had a season-high 16 and the Brooklyn Nets (15-56) beat the Phoenix Suns (22-50) on Thursday night to finally give them consecutive victories this season. Trevor Booker added 14 points on the night. Devin Booker scored 28 points and Marquese Chriss finished with 23 points and 11 rebounds for the Suns. Alex Len also recorded a double-double (11 points and 11 rebounds).
San Antonio 97 Memphis Grizzlies 90
SAN ANTONIO – LaMarcus Aldridge scored 23 points, Kawhi Leonard added 19 and the San Antonio Spurs (55-16) beat the Memphis Grizzlies (40-32) on Thursday night. Patty Mills was 3 for 6 on 3s, finishing with 15 points. Mike Conley had 22 points and six assists for Memphis. Marc Gasol finished with 13 points. Gasol was the only other Grizzlies player in double figures. Memphis is now 1 1/2 games behind Oklahoma City for sixth place in the Western Conference.
Portland Trailblazers 110 New York Knicks 95
PORTLAND – Damian Lillard scored 30 points and the Portland Trail Blazers (33-38) never trailed in a victory over the New York Knicks (27-45) on Thursday night. C.J. McCollum (Lehigh) added 20 points and Jusuf Nurkic finished with a double-double (16 points and 10 rebounds). Kristaps Porzingis led the Knicks in the scoring department with 18 points.