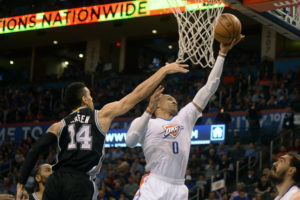 Oklahoma City Thunder 102 San Antonio Spurs 92
OKLAHOMA CITY – Russell Westbrook had his 31st triple-double (23 points, 13 assists, and 13 rebounds) of the season to help the Oklahoma City Thunder (36-29) beat the San Antonio Spurs (50-14) on Thursday night. Victor Oladipo added 20 points and Eric Kanter contributed with 14 points off the bench. Kawhi Leonard led the Spurs in the scoring department with 19 points. LeMarcus Aldridge added 17 points.
Detroit Pistons 106 Cleveland Cavaliers 101
DETROIT – Andre Drummond recorded a double-double (20 points and 16 rebounds), and the Detroit Pistons (32-33) scored the first 13 points of the fourth quarter before holding on for a 106-101 victory over the Cavaliers (42-21). Reggie Jackson led the Pistons in scoring with 21 points. Tobias Harris and Kentavious Caldwell-Pope both added 15 points. LeBron James led the Cavaliers in the scoring with 29 points. Kyrie Irving finished with 27 points.
Los Angeles Clippers 114 Memphis Grizzlies 98
MEMPHIS – Austin Rivers scored 20 points, and Chris Paul added 19 points and seven assists to lead the Los Angeles Clippers (39-26) to a big road win over the Memphis Grizzlies (36-29) on Thursday night. Jamal Crawford and Blake Griffin each added 14 points. Marc Gasol led Memphis with 20 points, and Zach Randolph recorded a double-double (18 points and 11 rebounds), but the Grizzlies defense, allowed the Clippers to shoot 51-percent from the field. Los Angeles led 54-45 at the break, then outscored Memphis 31-20 in the third to build a lead that eventually stretched to 22 in the final frame.
Portland Trail Blazers 114 Philadelphia 76ers 108 (OT)
PORTLAND – Jusuf Nurkic had a career-high 28 points and 20 rebounds, and the Portland Trail Blazers (28-35) beat the Philadelphia 76ers (23-41) 114-108 in overtime on Thursday night. Damian Lillard finished with 24 points, C.J. McCollum (Lehigh) added 23 points, and Allen Crabbe finished with 18 points off the bench. Dario Saric led the 76ers in scoring, as he dropped 28 points on the night. Robert Covington recorded a double-double (24 points and 13 rebounds).
Los Angeles Lakers 122 Phoenix Suns 110
PHOENIX – D'Angelo Russell scored 28 points, including six 3-pointers, and the Los Angeles Lakers (20-45) snapped an eight-game losing streak with a win against the Phoenix Suns (21-44) on Thursday night. Jordan Clarkson added 19 points off the bench. Devin Booker led the Suns in the scoring department with 23 points. Marquese Chriss finished with 18 points.