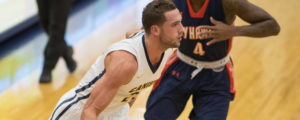 Courtesy of GoGriffs.com
Canisius senior forward Phil Valenti is one of 14 men's basketball players in the Metro Atlantic Athletic Conference to be named to the 2017 MAAC All-Academic Team, the conference office announced late last week. This marks the first time Valenti has earned academic all-league accolades in his career.
A native of Victor, New York, Valenti earned his undergraduate degree in communications from the College in May 2016, is currently on track to graduate with his master's degree in sport administration from Canisius in the next few months. After he earns his master's degree, he will become the 10th member of the Canisius men's basketball program to earn a master's degree from the school since 2007-08.
To be eligible for the MAAC All-Academic Team, a student-athlete must hold a cumulative grade point average of 3.20 or higher (on a 4.0 scale) and complete two semesters at their institution.
Valenti ranks third on the team and 16th in the MAAC in scoring average with his 13.9 points per game, and his 5.8 rebounds leads Canisius and ranks 14th in the MAAC. One of 11 players in school history to score more than 1,300 points and grab more than 600 boards in a career, Valenti is currently tied for third in school history with 124 career games played.
Valenti and his Canisius teammates will return to action next week, when the Golden Griffins take part in the 2017 CIT. The team's first-round opponent will be announced later this week.