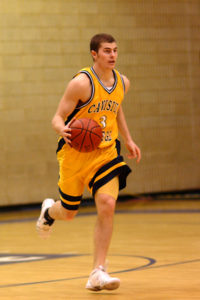 By PAUL GOTHAM
Turbulent comes to mind as a word to describe Kevin Downey's career as a Canisius Golden Griffin. The former Livonia Bulldog star and current Victor High boys basketball coach spent five years in blue and gold. Some might call it a lifetime when considering the experiences.
From the passing of both his father and a fellow teammate as well as enduring a national tragedy, Downey's time on Main Street, Buffalo shaped who he is today. He credits Canisius with providing the support he needed.
"I enjoyed every second of it," said Downey who was inducted into the Canisius College Athletics Hall of Fame this past weekend. "It wasn't the easiest path, but that's education. You got to learn from your mistakes or things that happen to you. You grow from that.
"I really felt like I found myself at Canisius. Basketball was a big part of that as was the school, my roommates, my friends and the relationships I developed."
Downey arrived on campus in the fall of 2001. Two weeks later the terrorist attacks of September 11th left the nation in upheaval.
Two months after that, he suffered a serious ankle injury and was sidelined.
He was a young man away from home in a country struggling with national security, and the game he loved was taken away from him.
"Although it wasn't the easiest, the education that it provided prepared me for today and it still resonates," Downey reflected. "The lessons I learned at school are part of what I do today in life. I'm very grateful for the experience, the opportunity. I went there to play basketball and graduate, and I truly did get a great education."
He tried to play later that season, but the ankle was not 100 percent.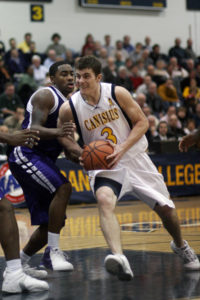 He returned the following year as a redshirt freshman. His father Tom, the long-time Section Five boys basketball coach, was diagnosed with stomach cancer. The elder Downey died later that season.
"When my dad was sick, they really helped me get through that as a young 19-year-old kid. That was a difficult situation to get through, but Canisius had everything."
That was 2003. In the summer of 2004 Downey's teammate Richard Jones collapsed and died during an off-season workout.
"We were in the same class, freshman roommates together."
An autopsy showed a genetically enlarged heart as the cause of death. Little more than a year removed from the passing of his father, Downey came face-to-face again with the death of someone close to him. Again, Canisius was there for him.
"They had the support systems in place for whatever happened. It was more like  a family."
Downey's 1,583 points ranks seventh all-time in Golden Griffin history. He is third with 185 3-pointers made, fifth in assists (404) and eighth with 147 steals. A three-time All-MAAC performer, Downey is one of five players to lead Canisius in scoring for three seasons. He is one of just seven players in the program's 113-year history to score more than 1,000 points, grab more than 400 rebounds and hand out more than 250 assists.
Fittingly, the ceremony for the 54th induction class came on the same day that Victor native and current Griff Phil Valenti played his final regular season game for Canisius.
The event connected the careers of two former Section Five standouts: Downey, the 2001 Class B Tournament MVP for the champion Bulldogs, and Valenti the 2012 AA1 Tournament MVP and eventual New York State Tournament MVP that same year.
"He came up during warmups and gave me a big hug," Downey said. "He's really valuable to that team with his leadership."
Downey noted that Valenti has already started giving back to his hometown.
"Phil's been great. He's home in the summer time, and he comes and works out with our high school guys. He is phenomenal. He's a great role model. I know that he didn't play for Victor, but he still considers himself from Victor. He's got pride in the school and wants us to be successful. He comes back and works out and show our guys how hard you have to work to be at that high of a level."
Valenti scored 23 points in the Griffs win over Marist on Thursday in the opening round of the 2017 MAAC Championship. Canisius will play Saint Peter's in Friday's quarter-final round.
"He's really a good representative of Section Five, definitely. He's had a great career and hopefully he's finishes strong."
Downey, in his fourth season, guided the Victor Blue Devils to a 15-5 mark and a No. 2-seed in Class AA. The Blue Devils fell in the quarter-finals.