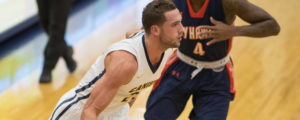 Courtesy of GoGriffs.com
ALBANY, N.Y. – Four Canisius players scored in double-figures, led by senior Phil Valenti who posted a game-high 23 points, as the Golden Griffins advanced to the 2017 MAAC Championship quarterfinal round with a 77-73 victory over Marist Thursday night in Times Union Center. The win improves Canisius to 18-14 on the season, while the Red Foxes see their season end with an 8-24 mark.
Valenti ended the night by going 8-for-13 from the field and 7-for-8 from the free-throw line, while also grabbing seven boards to go with four assists and three steals. Senior Kiefer Douse was good for 17 points and seven rebounds in the win for the Blue and Gold, while junior Kassius Robertson tossed in 12 points to go with five boards and junior Jermaine Crumpton scored 10 points and dished out three assists. Canisius shot 46.6 percent from the field and 50 percent from 3-point land in the victory, and the Griffs ended the night with a 26-15 advantage on points scored off turnovers.
Marist sophomore Brian Parker had a team-high 22 points in the loss for the 10-seeded Red Foxes, while senior Khallid Hart ended his career with 16 points in the losing effort. The Red Foxes shot 49.1 percent from the field, but hit on just 3-of-22 attempts from 3-point land and ended up turning the ball over 16 times.
A pair of free-throws by Douse with 2:41 left to play evened the score at 69-69, and the Griffs took the lead for good with 2:09 showing on the clock after Robertson drilled a 3-point field goal from the far corner off a pass from Valenti. After Marist cut Canisius' lead to 72-70 on a made free-throw, the Griffs stretched their margin back to four at 74-70 with 1:10 remaining after freshman guard Malik Johnson found Valenti with a back-door pass for a lay-up. Valenti pushed Canisius' cushion to four at 76-72 with another lay-up with 49.3 seconds left, and Douse sealed the victory by making 1-of-2 charity tosses with eight seconds left to play.
Head Coach Reggie Witherspoon's Postgame Comments
"When you get to this time of year, there aren't a lot of teams that are that much better than others, so you're picking a fight when the game starts, and certainly our opponent fought hard tonight and we were fortunate to come out on top."
"Give Marist credit. Mike [Maker] coaches his tail off over there and they really run their stuff well. In a game like this, you're taking about perseverance. Phil [Valenti] played heavy, heavy minutes in the second half and he was great at the free-throw line. That's one of the things people don't talk much about. Obviously, he finished very well around the basket, especially in the second half, but he stayed poised at the free-throw line late in the game and that was really big for us."
Inside the Box Score
• Marist grabbed 35 rebounds against Canisius' 31 boards in the game. Thirteen of the Griffs rebounds came off the offensive glass, with Valenti grabbing three.
• The Griffs were credited with 19 assists on 27 makes from the field. This game marks the 26th time this season where the Griffs have recorded 15 or more assists in a game.
• Eight of the nine Canisius players that saw time on the floor had at least one point in the win for the Blue and Gold.
• The game featured five ties and seven lead changes.
Game Notes
• This was the 46th all-time meeting between these two schools, with Canisius holding a 28-18 lead in the series.
• The Griffs improved their MAAC Tournament record against Marist to 3-3 with the victory.
• Canisius is now 25-26 all-time in MAAC Tournament games. The Griffs have more wins as the seventh-seed (seven) than any other seeding.
• The Griffs have now scored a total of 2,533 points as a team this season, which ranks second-best for a single-season in school history.
• Johnson had a game-high seven assists for Canisius, the most assists for a Canisius freshman in a MAAC Tournament game.
• Those seven assists for Johnson also marked the 29th time this season he's posted multiple assists in a game.
• Valenti moved into a tie for 13th on the school's career scoring chart with former Griff Darnell Wilson. Both players have 1,331 points to their credit.
Up Next
Canisius will return to action on Friday, March 3 when the Griffs take on No. 2 seed Saint Peter's in the MAAC Tournament quarterfinal round. Tipoff is set for 9:30 p.m., and the game will be broadcast live on ESPN3.