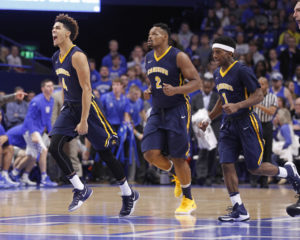 Courtesy of GoGriffs.com
LAWRENCEVILLE, N.J. – Senior Kiefer Douse led five Canisius players in double-figures with 21 points to go with seven rebounds and junior Kassius Robertson added 18 points as the Golden Griffins scored an 85-77 road win over Rider Friday night in Alumni Gymnasium. The victory, Canisius' fourth with in five outings, improved the team to 17-11 overall and 10-7 in MAAC play, while the Broncs slipped to 14-14 overall and 7-10 in league play.
Douse extended his streak of scoring in double-figures to six with his 21 points on Friday, his third 20-point game in the team's last five outings. Robertson had three rebounds, three assists and three steals in the win for the Blue and Gold, and his two makes from 3-point land allowed him to become just the third player in school history to hit 200-plus career treys. Junior Jermaine Crumpton scored 14 points and grabbed five rebounds, senior Phil Valenti (Aquinas) added 12 points and four steals and senior Martin Dixon-Green came off the bench 10 score 10 points while grabbing a career-high six rebounds.
Canisius trailed Rider 62-58 with 9:58 left to play, but back-to-back 3-pointers by Dixon-Green and sophomore Chris Atkinson got the Griffs even at 64-64 with 8:41 left on the clock. Rider regained the lead at 67-66 with 7:26 left, but a pair of traditional 3-point plays by Douse and Robertson in the span of 44 seconds gave the Blue and Gold a five-point cushion at 72-67 with 6:29 left to play. Rider fought back and cut the Griffs' hold to just one at 72-71 with 5:38 remaining, but five-straight points from Douse and a 3-point field goal by Crumpton with 3:19 left to play sealed the win for Canisius.
Canisius shot 48.4 percent from the field and 44.0 percent from 3-point land in the win, and the Griffs' reserves out scored Rider's bench by a 20-8 count for the game. Rider shot 46.3 percent in the loss, and the team made just seven of its 20 tries from 3-point range.
Rider had five players score in double-figures, led by senior Jimmie Taylor, who tallied a game-high 25 points in the victory. Xavier Lundy added 19 points while Kahlil Thomas had a double-double with 14 points and 12 boards.
Head Coach Reggie Witherspoon's Postgame Comments
"I think our guys were really locked in at both ends of the floor tonight. I think we really stayed together as a team. [Rider] is a really good team. They are a veteran group that really plays well together. Their style forced us to stay together as a team."
"Our communications was really good tonight. There was one possession where I wanted to go zone, but the players said they wanted to play man-to-man, and we ended up getting a stop. It's so important that our guys are play together and communicate. It just makes us that much better."
Inside the Box Score
• Rider, the MAAC's top rebounding team, won the battle on the glass by a 45-34 count.
• Canisius improved to 6-0 this season when registering five or more players in double-figure scoring.
• The Griffs drained 10 3-point field goals in the victory on Friday. The Griffs are now 9-2 this year when making 10-or more 3-pointers in a game.
• The game featured 10 lead changes and four ties.
Game Notes
• This was the 46th all-time meeting between the two teams, with Rider leading the series 34-12.
• The win in Rider's Alumni Gymnasium was just the Griffs' fourth in 21 tries all-time.
• Freshman guard Malik Johnson had a team-high five assists in the win for Canisius, and he also pulled down six rebounds.
• Douse is averaging 18.5 points per game in the team's last six games.
• Valenti had four rebounds in the win, making him just the 11th player in the school's 113-year history to score more than 1,200-career points to go with 600-plus career rebounds.
• Sophomore Ronnie Gombe came off the bench and scored his first points in over a year when he registered a bucket in two minute. Gombe missed most of this season with a lower-body injury and was just recently cleared to return to the active roster.
Up Next
Canisius will play its final regular-season road game Sunday, Feb. 19 when the team travels to play at Marist. Game time in Poughkeepsie, New York is set for 2 p.m., and the game will be broadcast live on Time Warner Cable Sports Channel. The audio call will be on Timeless WECK 1230-AM and 102.9-FM in Buffalo and the Golden Griffin Broadcast Network.