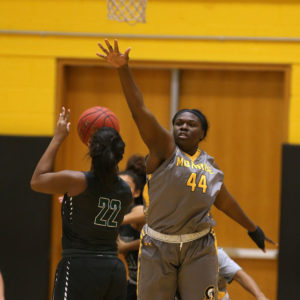 By PAUL GOTHAM
ROCHESTER, N.Y. — Jaynelle Robinson registered a double-double, and the Monroe Community College women's basketball team went on to defeat the Genesee Community College Cougars, 102-48 in WNYAC action Wednesday night on Monagan Court.
Robinson netted 10 of  her 12 points during the third quarter as MCC pulled away for its 10th straight win. With the Lady Tribunes leading by 18, Robinson scored back-to-back baskets.
"My team keeps pushing me, wanting me to finish around the rim," Robinson said. "I've been trying to find my rhythm. My main goal is to go in and do what coach asks: rebound and finish. I found my rhythm a little tonight."
The 6-foot-3 freshman center converted a rebound and putback before finishing inside on a feed from Ellease Billings.
"She helps me out a lot during the game," Robinson said of her teammate. "I have to thank her. Without her, I don't think I would do half of what I get done."
Robinson grabbed offensive rebounds and finished three more baskets to stretch the lead to 30 at 67-37.
Robinson, averaging 8.4 points and 9.4 rebounds on the season, hauled in a game-high 14 rebounds. She has scored in double figures in back-to-back games accounting for 10 in Monroe's 70-48 victory over Mohawk Valley Community College on Tuesday.
Torrie Cash led all scorers with 22 on 8-of-12 shooting.
Leading by 11 early in the second quarter, Cash connected on one of her five 3-pointers on the night. She followed with a steal and layup.
"They were really telegraphing their passes a lot, so I was just trying to get in there and steal without fouling," the freshman guard said. "I did have two fouls in the first quarter. When I got in there I was trying to not get another."
Four possessions later, Cash connected on another trey and then found teammate Abby White ahead of the defense for a layup.
"Abby looks for everybody else, so I was really trying to get her a basket," Cash explained.
Torrie Cash finds Abby White ahead of the defense for a layup. @MCCTribunes @MCCWBBALL pic.twitter.com/i63HS9oYMz

— Paul Gotham (@PickinSplinters) February 15, 2017
Monroe led 50-29.
Monroe improved to 21-3 on the season and 8-0 in conference.
"It feels great," Cash said. "The first half we came out a little flat, but second half we picked it up. That was good. It's an accomplishment to me because I didn't know what to expect coming in. I didn't know the team. It was new people and a new college."
Billings added 15 points on 6-of-11 shooting. The freshman forward grabbed nine rebounds, connected on a ll three of her free throw attempts and handed out two assists.
Ellease Billings gets the and-one. @MCCTribunes @MCCWBBALL pic.twitter.com/Q7aJ3zIVvD

— Paul Gotham (@PickinSplinters) February 15, 2017
Lanay Rodney chipped in 13 points, and Sierra Green had 11.
White handed out a game-high six assists. The Tribunes finished with 21 helpers on 40 made field goals.
Monroe outrebounded Genesee, 61-41. The Tribunes converted 31 offensive rebounds into a 30-18 advantage in second-chance points.
The Tribs travels to play at Jamestown Community College on Saturday.