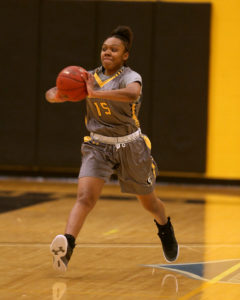 By PAUL GOTHAM
ROCHESTER, N.Y. — Six scored in double figures, and the Monroe Community College women's basketball team established a program record for 3-pointers during a 112-48 victory over the Jamestown Community College Jayhawks in WNYAC action, Wednesday night on Monagan Court.
Sierra Green paced the attack with 19 points on 6-of-16 shooting. The freshman guard handed out a game-high seven assists while collecting two rebounds and two steals. She hit five 3-pointers, part of an effort which saw MCC connect on 24 treys for the night.
"I feel like everyone was making that extra pass, so that's usually when we hit more," Green noted. "Once we get that extra pass going
it shifts the defense more to get the open shot. We were burying it even when they were in our face. The extra pass creates more intensity for us."
Green poured in 11 second-quarter points, and the Tribunes turned a 25-9 advantage after the first stanza into a 60-21 blowout at halftime.
With Jamestown CC collapsed in a 2-3 zone defense to protect the basket, Monroe hit 24 of 56 from the perimeter. The Tribunes handed out 29 assists on the night – nearly 10 better than their average and pushed the ante on their three-point percentage from 35.1 for the year to 42.9 percent.
"They were packing it in on our post, so it opened up the floor for our guards," said sophomore point guard Abby White who leads the team with 4.6 assists per game. "If we didn't hit them it would have been a long night. Thank God we did.
White finished the night with 11 points and five assists.
"All my guards being able to sit at the three-point line and shoot the ball it's a great feeling," she added. "It's a great feeling for them. Our hard work in practice is really paying off. It's good to have our confidence up and to get all the girls to see that we are good enough at this level and get their shots up."
Torrie Cash netted seven of her 15 points and handed out an assist in the first quarter as MCC sprinted to a 16-point advantage after the first 10 minutes of play. Cash connected on four of six attempts from the floor – all from behind the three-point arc.
Shalix Hines swiped a game-high four steals. The freshman guard scored 11 points on four of six shooting. She hit three of six attempts from long range.
Erica Abitante tallied all 15 of her points in the second half finding the range on five of nine attempts behind the arc.
Reigning National Player of the Week Lanay Rodney scored 13 on 6 of 10 shooting.
The Tribunes committed just seven turnovers while forcing 35 Jamestown CC miscues. Monroe amassed 55 points off turnovers.
The Tribunes held a 42-35 advantage in rebounds and converted 23 offensive rebounds into 29 second-chance points.
The Lady Tribunes broke the program record of 18 made triples set earlier this season in a 107-35 victory over CCBC Catonsville. Green connected on eight of nine three-point attempts in that game.
Monroe improved to 17-3 and 5-0 in conference with the win.
Monroe plays at Mercyhurst NE next Wednesday.