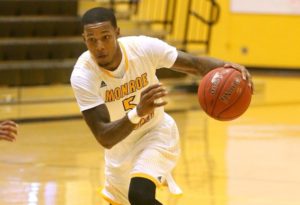 By PAUL GOTHAM
ROCHESTER, N.Y. — Jerry Burns spent most of the night living on an edge he'd prefer to avoid. The 26th-year coach came out none worse for the wear.
Devonte Dixon led five in double figures as the Monroe Community College men's basketball team made a first-half run stick en route to an 86-76 victory over the Jamestown Community College Jayhawks in WNYAC action Wednesday night on Monagan Court.
Dixon netted five of his 18 first-half points during a pivotal 11-0 run midway through the first half. The sophomore guard connected on one of his four three-pointers in the stanza. Two possessions later, Holden Redparth led him on a run-out for a layup.
Next trip down the floor, George Graham fed Tremaine Carter in  the open court for a 28-17 Monroe advantage.
Jamestown never got any closer than seven, but Monroe never led by any more than 14.
"That eight, nine, 10-point lead isn't a comfortable one with the possibility of a three ball," Burns explained. "They bang two 3s and it's a whole new game."
But on this night, the young and struggling Tribunes thrived on the edge. Monroe limited Jamestown to 25 of 62 shooting including one of 10 behind the arc. The teams exchanged the lead eight times through the first eight minutes of play before the Tribunes took command.
Redparth started the run with a pull-up jumper from the left wing to snap a 17-all tie.
"I was just happy our guys showed some intestinal fortitude," Burns noted. "We broke down a couple times, but we did a couple of those big stops that we needed to get. I would have liked to have seen a few more. We gave up a couple really easy baskets. Overall I thought we got the stops that we needed to."
MCC pushed the lead to 13 when Kewan Platt hit one of eight Monroe triples in the half. Carter converted a two on one with Dixon, and the Tribs led  41-28 with just over three minutes remaining in the half.
"When we make six passes and run our offense, we're going to get good shots," Burns explained.  "If we were to do that, then we'll get good baskets."
Monroe led by 13 throughout most of the latter stages of the second half  before Omar Williams and Malik Colvin-Seldon combined to put the game out of reach. Williams turned down a Carter ball screen, drove the paint and dished to Colvin-Seldon for the easy bucket.
"We ran a play called 41 where we screen at the high post," Burns explained.  "It's up to the guard to turn the corner. Then he has three options. He has wing, corner or dish to short corner. "O" made the right decision. It was a dish to short corner.
"We've been telling Malik that he has to finish instead of looking for fouls. Tonight, something in him finally woke up.  He was going after the ball like a maniac. When "O" dished to him he looked to tear the rim off. That's what he needs to do."
Dixon finished with 27 points on 9-of-19 shooting including 6-of-12 from behind the arc. After hitting on 6 of 11 shots in the first half, including four of seven from long range, he chose to take just eight shots in the second half.
"I wanted to get other people involved," Dixon stated. "I didn't want to start forcing shots. I just calmed down. I told myself before the game 'we need a win. Just focus, don't even think about scoring. Play defense first and whatever comes, I would take it. I just started knocking down shots."
"It's get back to the philosophy that we've been trying to teach: take as many shots as you want," Burns said of Dixon's performance. "Just make sure they're good shots. He did a really good job in the first half of taking good shots."
Williams handed out a game-high nine assists. Colvin-Seldon connected on five of eight field goals and finished with 17 points. Platt chipped in 10 pints and grabbed a team-high seven rebounds. Carter tallied a dozen on 6-of-10 shooting. Redparth added 11 points, six rebounds and three assists.
Monroe finished with 21 helpers on 30 made field goals.
Jean Toussaint led Jamestown CC with 21 points on 7-of-12 shooting. Tyler Moffe scored 14 and corralled a game-high nine caroms.
The Tribunes converted 15 Jamestown CC turnovers into 23 points.
Monroe had dropped two straight and three of four entering Wednesday night's game. The Tribs improved to 11-9 and 2-3 in conference play.
Monroe travels to play at Mercyhurst NE next Wednesday.
Jamestown fell to 13-9 and 2-3.