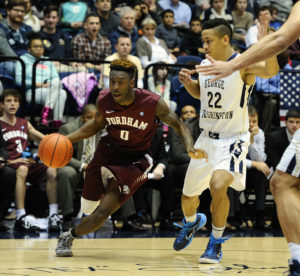 By PAUL GOTHAM
After tumbling to an 0-3 start in conference play, the Fordham Rams have since taken three of five and find themselves within reach of the Atlantic 10's upper half.
It's no coincidence that Antwoine Anderson (Bishop Kearney) has been at the heart of this recent stretch.
"Antwoine has really improved," second-year Fordham coach Jeff Neubauer said during the weekly A-10 tele-conference. "His game is much better than it was 18 months ago."
Averaging 11.2 points per game for the season (up from 8.3 a year ago), Anderson has also added to his assists (from 2.6 last year to 3.0 currently) while seeing a drop in his turnovers from 2.4 to 2.2 per game. He is scoring 13 a game over the last five.
"I'm not just talking about his offense," Neubauer added. "I'm not just talking about scoring. His decision making, his passing and his defense all areas of his game have really improved."
Anderson has stepped into a larger role in Fordham's offense taking nearly five percent more of the Rams shots. At the same time, his true-shooting percentage (metric which combines shooting percentages for two-point field goals with three-pointers and free throws) per KenPom has stayed above 50 percent.
He also is accomplishing this while back court mate Joseph Chartouny has struggled with injury and illness this season. The two combine for more than five steals per game and lead a Fordham squad ranked third in the nation with 10.5 thefts per game. But Chartouny, the Atlantic 10 Rookie of the Year last season, was limited for three-non-conference games because of an elbow injury. A stomach bug, which sidelined Prokop Slanina for the St. Bonaventure loss, also slowed Chartouny.
Anderson has been called upon to steady Fordham's attack.
"When a young man drastically improves as a player, it really is rewarding for a coaching staff," said Neubauer referring to Ryan Rhoomes, Anderson's teammate from last season who led the Rams in scoring and rebounding. "Antwoine would be the poster-child for our program right now as far as how young men get better."
Fordham (9-12/3-5) hosts Dayton (15-5/6-2) Tuesday night. Flyers head coach Archie Miller has had a chance to watch Anderson for three seasons.
"He's got a combination of a couple things," Miller said when asked about Anderson. "He's a very capable three-point shooter. He's a very, very gifted guy with the ball in his hands in terms of not only being able to probe the paint, but to attack the rim and get fouled. He's got a good mid-range game. He's hit a lot of big shots for those guys inside the line off pull-ups."
Anderson recently scored in double figures over four straight games including the game winner at the buzzer to beat VCU in overtime.
"He's a guy we're going to have to really be keyed in on to do the job and making things hard for him," Miller stated. "He's very gifted with the ball and very quick. As you watch his career develop, Coach Neubauer and his staff have done a really good job of putting him in situations where he can be himself."
Anderson led Bishop Kearney to three straight Section Five titles including the 2013 NYS Class AA championship.
CBS Sports Network will televise Tuesday's game. A 9 pm tipoff is scheduled.