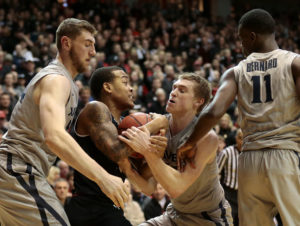 Thursday's Top 25 action.
No. 19 CINCINNATI 86 No. 24 XAVIER 78
Five Bearcats contributed during a 9-0 run mid-way through the second half to give No. 19 Cincinnati a lead they did not surrender, Thursday night.
Jacob Evans paced the Bearcats with 21 points on 7-of-16 shooting. Gary Clark posted a double-double with 13 points and 11 rebounds. Trevon Bluiett propelled the Musketeers in the game, dropping 40 points and tying a school record with nine three-pointers. Bluiett led an effort which saw the Musketeers shoot 53.6 percent, over 20 percent better than their 286th ranked average (32.9 percent), from three-point range, but finis 7 of 28 on two-point shots.
The Bearcats improve to 18-2 and the Musketeers drop to 14-6.
No. 3 GONZAGA 79 SAN DIEGO 43
Nigel Williams-Goss netted 25 points and Johnathan Williams scored 13 to go with 12 rebound to fuel Gonzaga (21-0).
No. 7 ARIZONA 79 WASHINGTON STATE 62
Arizona's (19-2) Lauri Markannen led with 16 points and 13 rebounds. Conor Clifford scored 19 points and grabbed five rebounds for Washington State (10-10).
No. 9 NORTH CAROLINA 91 VIRGINIA TECH 72
Justin Jackson topped UNC (19-3) with 26 points. Kennedy Meeks contributed 15 points and 14 rebounds for a double-double. Seth Allen paced Virginia Tech (15-5) with 19 points, five assists and two rebounds. UNC has won seven straight games.
No. 10 OREGON 73 UTAH 67
Dillon Brooks led Oregon (19-2) with 19 points, three assists, two rebounds, two steals and two blocks. Kyle Kuzma netted 18 points and pulled in nine rebounds for Utah (14-6).
No. 21 SAINT MARY'S 66 SAN FRANCISCO 46
Emmett Naar paced Saint Mary's (18-2) with 18 points and six assists.