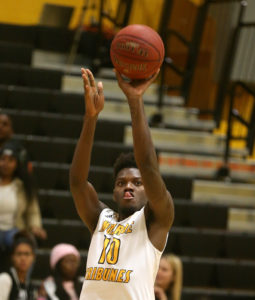 By PAUL GOTHAM
BATAVIA, N.Y. — Three players topped 20 points, but it wasn't enough as the Monroe Community College men's basketball team fell to Genesee Community College, 86-85 in Region 3 action Wednesday night.
Malik Colvin-Seldon, Devonte Dixon and Kewan Platt scored 21 points apiece in the loss as Monroe fell to 1-2 in conference play.
Monroe jumped to an early lead, and an Omar Williams catch-and-shoot 3-pointer gave the Tribunes a doubled-digit advantage at 16-4. MCC produced points on 18 of its first 27 possessions of the night. Platt took an inside-out feed from Colvin-Seldon and nailed a three. Next possession Platt fed Tremaine Carter in the lane for a deuce, and Monroe had its largest lead of the night at 41-24 with more than four minutes remaining in the first half.
The Tribunes, though, only managed to score on one of their final 11 possessions for the rest of the stanza and took a 43-40 edge into the locker room.
Genesee's Ladji Fofana led all scorers with 35 points. The freshman guard connected on 10 of 16 shots from the floor and 13 of 14 from the free throw line along with handing out five assists.
Brian Fobbs (Bishop Kearney) gave GCC its first lead of the second half when he drove across the lane for a layup and one and a 57-55 edge.
Brandon Adams converted a rebound and putback to give GCC its largest lead of the night at 66-58.
Platt converted two free throws with 1:45 remaining in the game for a 79-78 Monroe edge. The Tribunes led 81-80 when GCC's Brandon Peters went to the line for two free throws. Peters hit the first, but his second found iron and teammate Dejean Ellebb grabbed the offensive board and finished at the rim to give GCC an 83-81 with 1:10 remaining. The Cougars did not trail again.
The Tribunes limited GCC to two field goals over its final 26 possessions – a stretch which included six Cougar turnovers
Fofana picked up his fourth foul with 8:59 to go in the game. He went to the bench and returned less than three minutes later. He eventually fouled out with 1:53 on the clock. Unlike in their win on Saturday when Mercyhurst North East's leading scorer, Omar Little, fouled out with 5:54 to go, the Tribunes could not take advantage. With Little on the bench, MCC outscored the Saints 15-3.
Monroe converted 17 of 27 free throws. The Tribunes had a 34-31 advantage on the boards. MCC handed out 20 assists on 29 made field goals.
GCC shot 27 of 35 from the free throw line.
Williams finished with 15 points and six assists for MCC.
Rahmel Thompson added 13 points for GCC. Fobbs chipped in with 11.
Monroe (10-8/1-2) will host Erie Community College on Saturday. A 3 pm tipoff is scheduled.