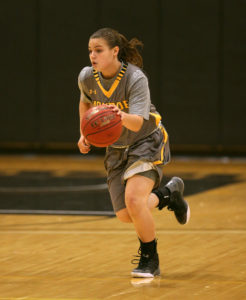 By PAUL GOTHAM
BATAVIA, N.Y. — Lanay Rodney poured in 16 of her career and game-high 34 points in the third quarter as the Monroe Community College women's basketball team coasted to a 117-56 victory in WNYAC action Wednesday night.
Rodney finished the night 16 of 24 from the floor and two of three from the free throw line.  She connected on three straight possessions early in the third and five of seven to put the game well out of reach.
"Our game is just going fast-paced," Rodney explained. "When we push the ball it helps us get going."
The 5-foot-8 freshman forward hauled in a game-high 12 rebounds including 10 offensive caroms.
"Just going hard for the rebound and boxing out," she added. "Always looking to get second-chance opportunities."
It was a match that the Lady Tribunes, ranked 13th in the nation, took command of early.
Lanay Rodney gets the follow on the break. pic.twitter.com/BdVsqCKq3y

— Paul Gotham (@PickinSplinters) January 25, 2017
Erica Abitante and Sierra Green came off the bench to combine for 17 first-quarter points, and the Lady Tribunes raced to 39-2 advantage after 10 minutes.
Abitante connected on a pair of 3-pointers then converted a steal and jumper on the break. She followed  with a pull-up jumper off a half-court set.
Green converted a pair from the free throw line. She used an upfake from the corner to set up a baseline and capped the stanza with a catch-and-shoot triple from the left wing.
Abby White leads Sierra Green for 3. @MCCTribunes @MCCWBBALL pic.twitter.com/CoFip1XWMR

— Paul Gotham (@PickinSplinters) January 25, 2017
Monroe scored on 17 of 23 first-quarter possessions and forced nine turnovers to take control of the game.
Torrie Cash opened the scoring with a lay up in transition. Taliyah Brisco followed with a catch-and-shoot three. Rodney converted one of two free throws. Brisk scored on a lay in, Rodney made it a 10-0 game when she finished inside.
Genesee's Kiyomi Nakakoji broke the run, but Cash drove baseline for a 12-2 lead, and the Tribunes kept a double-digit advantage for the remainder of the game.
Tatyanna DiRoma connected on back-to-back triples late in the second quarter as the Tribunes closed the half producing points on seven of their last eight possessions going into the locker room.
The Tribunes led 66-22.
Rodney took over scoring on five of seven possessions coming out of the locker.
Abitante and Green finished the night with 16 apiece. Cash scored 13 while handing out six assists and collecting five of Monroe's 22 steals. Brisco had 10 points. Jaynelle Robinson chipped in eight points and eight rebounds.
Jaynelle Robinson converts a rebound and putback for @MCCTribunes @MCCWBBALL pic.twitter.com/fkDsawutVx

— Paul Gotham (@PickinSplinters) January 25, 2017
Shalix Hines (8) and Abby White (7) combined to hand out 15 assists while committing just one turnover between them. The Lady Tribunes finished with 29 helpers on 46 made field goals with 10 miscues.
The Tribunes controlled the boards 51-33.
Brionna Blocker and Rosalyn Sealey scored 18 apiece for GCC. Norvonee Hall posted a double-double with 10 points and 11 rebounds. Kelsey Scott-Avery had five assists.
Monroe won its third straight and ninth out of the last 10. The Lady Tribunes improved to 14-3 overall and 3-0 in conference play. MCC plays at Lackawanna College Thursday night.
Genesee CC Lady Cougars last defeated MCC on January 23rd, 2003.
The same two teams meet again on February 15th.