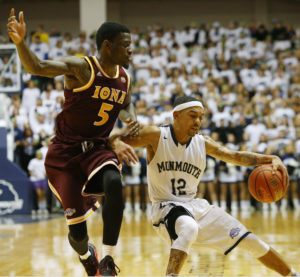 Courtesy of MonmouthHawks.com
WEST LONG BRANCH, NJ – For the first time this season, senior guard Justin Robinson was named MAAC Player of the Week, league officials announced Monday afternoon. Robinson led the Hawks to three wins, scoring 22.7 points per contest in the process to earn Monmouth's second weekly award this year.
Robinson was the catalyst of a 3-0 week for Monmouth to take over first place alone in the MAAC, including topping Canisius on the road to move into first and a victory over Fairfield in what would be MU's largest margin of victory against a Division I school ever. He netted 68 points in three games, an average of 22.7, while hitting the 20-point marker in all three contests. He did so while shooting 48.7 percent from the field and 52.9 percent from beyond the arc, pitching in 11 boards, 14 assists and six steals. He had two four-point plays and added four three-pointers in consecutive games, scoring 20 against Fairfield in just 22 minutes. Robinson was also 77.8 percent from the foul line on the week.
Earlier this season, Robinson earned Lou Henson National Player of the Week while classmate Je'lon Hornbeak was named MAAC Player of the Week in December. Robinson is 33 points shy of Monmouth's program scoring record and has scored the most total points in the MAAC this season.
Robinson and the Hawks are back in action Friday night at OceanFirst Bank Center to play Quinnipiac at 7:00 p.m. on ESPNU.
The MAAC named Quinnipiac's Mikey Dixon its Rookie of the Week. In Quinnipiac's only game this week, Dixon broke the school record for most points in a game by a freshman at the Division I level (since 1998-99) with 29 as the Bobcats earned a 95-90 home win over Canisius. He had 23 points with 1:30 to play, and then hit dagger three-pointers on back-to-back possessions to help seal the win. Read the complete release here.