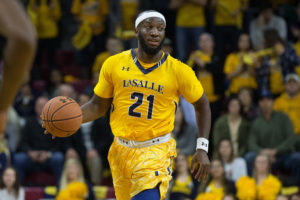 Courtesy of GoExplorers.com
PHILADELPHIA – Led by a 29-point performance from senior guard Jordan Price, the La Salle University men's basketball team outscored Davidson, 91-83, at Gola Arena on Thursday evening to win its fifth straight game and improve to 11-5 overall and 5-1 in Atlantic 10 play. The Explorers shot an impressive 57.4 percent from the field and were able to outrebound the Wildcats by a 35-29 margin in the victory.
Davidson got off to a hot start as Peyton Aldridge and Jack Gibbs combined to score eight of their team's first 10 points en route to a 10-2 lead at the 18:01 mark of the opening half. La Salle slowly made its way back and used a 9-0 run that included five points from Price and four more from junior Tony Washington to take an 18-15 lead.
The two teams continued to trade baskets in a high-scoring first half that saw both teams eclipse the 50-percent plateau in field goal percentage. The Wildcats shot an impressive 53.3 percent from the floor while the Explorers outdid them with a 57.4 mark. With the La Salle lead at two, 42-40, and under two minutes remaining, a 7-0 spurt capped by a three-pointer from Price boosted the advantage to nine heading into intermission.
Price was on fire in the first half, scoring 21 points to match the number on his jersey on an efficient 7-of-9 shooting. Sophomore Pookie Powell also had a nice half, registering 12 points and a pair of steals.
The second half began with five straight points from Davidson, before three consecutive hoops from the Explorers vaulted them in front by 10 at 55-45. A layup from Washington boosted the margin to 61-48 with 14:18 remaining, and the lead remained in double figures until the 6:19 mark when Aldridge converted on a basket in the paint.
Davidson made one final run to get back in the game, led by senior guard Jack Gibbs. Gibbs scored 10 straight points for his team over a stretch of 1:40 to whittle the margin to just three with 1:41 remaining. But a stepback jumper from junior B.J. Johnson, who finished with 19 points, and a layup from classmate Demetrius Henry regained a comfortable margin for the Explorers with under a minute remaining to help secure the win.
Henry had six of his eight points over the final 3:04 of the game, including two important putback buckets during Gibbs' run, and also finished with a team-high nine rebounds in 18 minutes of action. Powell closed with 14 points while junior Amar Stukes was the fourth Explorer to reach double figures with 12 points. Aldridge finished with a game-high 33 points on 13-of-25 from the field and Gibbs added 25 in the loss for Davidson.
La Salle looks to continue its hot streak on Sunday, Jan. 22 as it travels to Virginia to take on VCU. The game will be televised on NBC Sports Network beginning at 2:00 p.m.