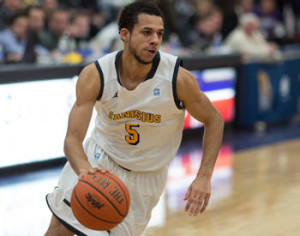 Courtesy of GoGriffs.com
Canisius junior Kassius Robertson tied a school record for 3-point field goals in a game with nine, set a program record for highest single-game 3-point shooting percentage (90 percent) and joined the school's 1,000-career point club on Saturday as the Toronto native posted a career best 30 points in the Golden Griffins' 91-58 win over Marist in the Koessler Athletic Center. The win, Canisius' ninth victory in its last 10 outings, improved the team to 12-6 overall and 5-2 in MAAC play. The Red Foxes, who have dropped three straight, slipped to 5-13 overall and 2-5 in league action.
The 33-point victory for Canisius is the program's largest margin of victory in a conference game since Jan 16, 2015 when the Blue and Gold defeated Siena 83-49 in the Koessler Athletic Center. Robertson led four Griffs in double-figures in the win on Saturday, as the team shot 50 percent from the field and 46.7 percent from 3-point land, highlighted by a 60 percent effort from the floor in the game's second half. The Griffs, who outscored Marist 53-25 in the game's final 20 minutes, ended the day with 14 makes from 3-point land, while holding the Red Foxes to 36.7 percent from the field and just 19 percent from behind the 3-point arc.
Robertson's nine 3-point field goals ties the program record, previously set by former Griff Alshwan Hymes in the Koessler Athletic Center Dec. 29, 2010 in a win over Northwestern State. He is the ninth player in MAAC history to make nine 3-pointers in a conference game, and he's the second player to drill nine treys in a league contest in the last nine days, joining with Fairfield's Curtis Cobb, who had nine 3-point makes in a win over Manhattan Jan. 5. The nine 3-pointers for Robertson moved him into fourth-place on the school's career 3-point field goals made chart with 179, passing former Griffs guard Billy Baron, who made 173 3-pointers from 2012-14.
Robertson, who had 15 points in each half, became the 36th member of the school's 1,000-point club with 14:10 left in the game when he drilled a triple from the left wing in transition off a pass by freshman guard Isaiah Reese. He is the second Canisius player to reach the 1,000-point milestone for his career this year, joining with teammate Phil Valenti, and he's the first Canisius junior to score his 1,000th point since former Griff Frank Turner accomplished the feat in 2008-09. He is also just the third Canadian-born player in school history to score 1,000 points, joining former Griffs Michael Meeks and Jamie Cammaert.
Valenti had 19 points and five rebounds for Canisius, which has now won four straight at home after starting the year 0-2 in the KAC. Reese chipped in 14 points, four assists, three rebounds and a steal off the bench for the Blue and Gold, and junior forward Jermaine Crumpton added 13 points, five boards and a block to the winning cause. Canisius' 91 points on Saturday improves the team to 9-1 when scoring more than 80 points this season.
After Marist's Khallid Hart hit a free-throw with 10:20 left to play, the Griffs led by five at 56-51. From there, Canisius closed the game on a 35-7 run, with Robertson scoring 12 points and Valenti adding seven. Hart led the way for Marist with 15 points, while sophomore guard Brian Parker chipped in 11 to the losing cause.
Canisius finished the game with 22 assists on 34 field goals, with Robertson leading the way with six assists, which matches his career high. Canisius turned the ball over just seven times, and ended up turning 14 Marist turnovers into 21 points.
Head Coach Reggie Witherspoon's Postgame Comments
"I think today was one of our better defensive efforts, and I'm saying that first because it might get lost in light of everything else. I thought our guys were pretty locked in against a team that moves without the ball exceptionally well, passes well and runs through their stuff exceptionally well. We may have caught [Marist] on a bad day, because I have seen them play very well. I thought our guys played hard and stayed locked in, particularly in the last 10 to 15 minutes."
"We have talked about this, in our last game, we scored a lot of points in the paint. Our opponent looked like they were saying 'let's take away the three'. Maybe they were, maybe they weren't, but we still took 20 threes, we only made five. When you get in that rhythm and flow like we had today, and when the ball is changing sides of the court, and guys are moving and cutting, it's amazing how often how often you end up being the guy who is open. That happened a couple of times today."
"People will look at this game and say wow, Kassius Robertson had 30 points, he was 9-of-10 from three. That's amazing. The thing that can go over looked is that he had zero turnovers and six assists. It's amazing how often you get open when you're getting other guys the ball. He got in a rhythm and that makes it really difficult for your opponent."
Inside the Box Score
• Canisius out rebounded Marist 39-29, the largest positive rebound margin in a game for the Griffs this season.
• Canisius' 14 makes from 3-point land as a team marks the 50th time since the start of 2012-13 season.
• Marist is the first team Canisius' defense has held under 40 percent from the field for a game this season.
• Canisius ended the game with a 40-26 advantage on points in the paint, a 21-9 advantage on second-chance points and the Griffs outscored Marist 18-0 in fastbreak points as well.
Game Notes
• This was the 44th all-time meeting between the two schools, with Canisius leading the series 27-17.
• The Griffs have won nine of the last 11 games between the two squads in the Koessler Athletic Center.
• Robertson is the first Griff to score 30-or more points at home since Malcolm McMillan had 31 points in the 2015-16 home opener against Lehigh.
• The 90 percent effort from 3-point land for Robertson is the new program record for 3-point field goal percentage in a game among players with at least five attempts. The previous mark was held by Hodari Mallory, who shot 87.5 percent (7-for-8) from 3-point land against Bucknell Dec. 3, 2002.
• Valenti's 19 points makes him the 25th player in school history to score 1,100-or more career points. He now ranks 24th all-time in career scoring, as he passed Canisius Hall of Famer Leroy Chollet on Saturday.
• Crumpton extended his streak of games with double-digits in the scoring column to 13 straight. Saturday is the 40th time in his 72 career games played where he's posted 10-or more points on the final stat sheet.
Up Next
Canisius will close out its brief two-game homestand on Monday, Jan. 16 when the Griffs host Monmouth. Tipoff in the Koessler Athletic Center is set for 7 p.m. The game will be broadcast live on ESPN3, and the audio call will be on Timeless WECK 1230-AM and 102.9-FM in Buffalo and the Golden Griffin Broadcast Network.