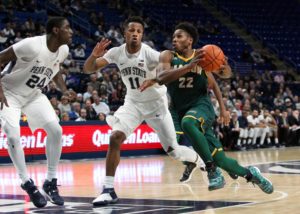 Courtesy of SJUHawks.com
Marquise Moore had 24 points and 10 rebounds, and surpassed 1,000 points for his career, to lead George Mason (12-5; 2-2 A-10) to a 75-67 win over Saint Joseph's (8-7; 2-2) in Atlantic 10 action at Hagan Arena.
Moore becomes just the second Mason player to go over 1,000 points, 500 rebounds and 300 assists in his career. Jaire Grayer scored 11 for Mason, with Otis Livingston and Kamari Newman adding 10 points apiece.
Lamarr Kimble led SJU with 18 points and freshman Charlie Brown had a season-high 17, with James Demery chipping in 16 points. Brendan Casper had 10 points for the Hawks.
In a game that featured six ties and 14 lead changes, Saint Joseph's led, 63-62, before Livingston connected on a three-pointer at 1:42 to give George Mason the lead for good. The Hawks missed six shots and committed two turnovers down the stretch, while the Patriots made 10-of-10 from the foul line to ice the win.
Mason led by as much as six points early in the second half and held a 56-51 lead with 8:13 to play. The Hawks went on a 10-4 run, capped by a three-point play from Demery, to retake the lead, 61-60. After a jumper by Moore put the Patriots ahead again, Casper gave SJU its final lead of the game, 63-62, with a layup at 2:05.
In the opening minutes, Mason led by seven but Saint Joseph's quickly got back in it with an 8-0 run, paced by five points from Kimble. After Kimble hit a late three-pointer, the Hawks owned a four-point lead, but Moore connected on a three-point play at :04 to trim it to 32-31 at the half.
George Mason shot 60.9 percent in the second half and shot 41.2 percent from three-point range in the game (7-for-17). Saint Joseph's turned the ball over 14 times and connected on just 5-of-21 (23.8%) from behind the arc.
The Hawks play their second straight home game on Saturday afternoon when they host Richmond at 12:30 p.m. in a nationally-televised contest (NBCSN).