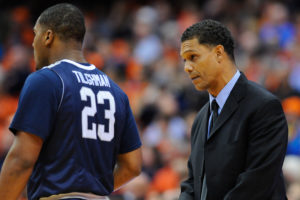 Courtesy of MonmouthHawks.com
WEST LONG BRANCH, NJ – Monmouth's men's basketball team outlasted Marist Sunday, 71-64 to win its second game in a row and move to 4-2 in MAAC play. Austin Tilghman (Wilmington, DE/Archbishop Carroll) scored a career-high 21 points to lead three Hawks in double figures.
MU held a three-point lead at the half after Tilghman netted 10 points in the period, but Marist came out of the half and took an early two-point lead. Khallid Hart netted a three to give Marist a lead at 11:51, but a 6-0 Monmouth run gave them the lead, capped by Collin Stewart (Glenville, NY/Mekeel Christian Academy) hammering an alley-oop on the break. Marist tied it at 7:04 but the Hawks would not trail again, knocking down foul shots down the stretch to secure the win.
NOTES AND QUOTES
"Today was a day I didn't think we had our best, but we did enough to win." –head coach King Rice
"This year, I've been working on my game a lot and today my teammates just found me and I had the hot hand." –junior guard Austin Tilghman
–Josh James returned to the floor after missing the previous two games with injury.
–Justin Robinson passed Rahsaan Johnson in the career assist list to move into fourth alone.
-Robinson and Chris Brady remained the only Hawks to start every game this season.
-Brady moved into 10th all-time in games played with his 118th.
-Robinson tied Tyler Azzarelli for fifth in making his 111th career start.
-Monmouth went with a starting five of Robinson, Seaborn, Hornbeak, Stewart and Brady for the second game in a row.
-Austin Tilghman started the second half for the second time in three games.
-Tilghman was in double digits for the third time this year, and first since 12/28 at North Carolina..
–Louie Pillari made his first three-pointer since the win over Cornell on 11/22.
-The Hawks are now 10-0 when leading at the half.
–Micah Seaborn scored in double digits for the sixth game in a row.
-Tilghman became the sixth Hawk to have a 20+ point game this season.
NUMBERS CRUNCH
-Tilghman set his career-high of 21 points.
-MU outscored Marist in points in the paint by a 28-14 margin.
-Tilghman was the first Hawk in double digits with 10 points in the first half.
-Monmouth is now 39-21 all-time against Marist.
-The Hawks are now 5-2 against Marist since joining the MAAC.
-Monmouth held Marist to 37% shooting.
UP NEXT
-Monmouth has six days off before returning to action on Saturday night at Niagara, with tip scheduled for 7:00 p.m.