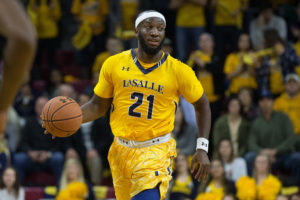 Courtesy of GoExplorers.com
PHILADELPHIA – Five players scored in double figures for the La Salle University men's basketball team in an 88-81 victory over Duquesne in Atlantic 10 action on Saturday evening. Senior Jordan Price and junior B.J. Johnson each scored 18 points while sophomore Pookie Powell added 16 for the Explorers, who have won two straight and improved to 8-5 overall and 2-1 in league play.
The Dukes jumped out to an early nine-point lead midway through the first half, before La Salle fought its way back using strong interior play. A three-point play from Johnson and layups by forwards Demetrius Henry and Tony Washington pulled the Explorers to within 26-24 at the 7:02 mark. Henry had a standout first half, scoring eight points and grabbing six boards in the period.
A five-point spurt that included a three-pointer from Johnson and two free throws from Powell gave the home team its first lead since the opening score of the game at 29-28 with 4:08 left in the half. The contest would stay close throughout the remainder of the period and went into intermission tied at 36-36.
Five quick points from Price to begin the second stanza propelled the Explorers in front, 41-36, before a 6-0 run by Duquesne briefly gave the visitors a 43-41 advantage. La Salle responded with seven straight points, including the last five from Powell to put the score at 48-43 with 16:01 remaining. The Explorers would lead the rest of the way, pushing their advantage to as many as 13 points.
The Dukes did make one final run, cutting their deficit to 71-68 with 4:05 on the clock. But Powell hit two free throws and Price canned another trey to put the margin in a comfortable range for the remainder of the contest.
Duquesne was led by Rene Castro who had 19 points, while Emile Blackmon added 18. Henry finished with 10 points and 10 rebounds for his first career double-double as an Explorer, and freshman Isiah Deas came off the bench to contribute 11 points for La Salle.
The Explorers hit the road for another Atlantic 10 contest on Thursday, Jan. 12 as the square off against Rhode Island. Tipoff is scheduled for 7:00 p.m., with the game airing live nationally on CBS Sports Network.