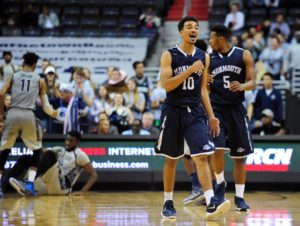 Courtesy of MonmouthHawks.com
WEST LONG BRANCH, NJ – Micah Seaborn (Fort Worth, TX/Prime Prep Academy) netted 25 points to lead all scorers, and Monmouth led for the final 37:19 in beating Iona on Friday night, 92-74. Four Hawks worked into double digits and MU led by as many as 23 in the win.
The Hawks led by 13 at halftime, and that's as slim as the lead would get in the second half. The margin hovered between 13 and 18 for the majority of the period, and after a Rickey McGill layup cut it to 14 at 11:36, MU went on a 9-2 run with triples from Seaborn, Robinson and Je'lon Hornbeak (Arlington, TX/Grace Prep/Oklahoma) to extend it to 23 at 8:31. Chris Brady (Greenlawn, NY/Harborfields) netted a hook at 2:38 to again extend the lead to 23, with MU eventually winning 92-74.
Collin Stewart (Glenville, NY/Mekeel Christian Academy) knocked in three foul shots after being fouled from deep at the 17:19 mark of the first half to make it 12-10 Monmouth, and the Hawks never trailed again. A 9-2 run put the Hawks up 14 at 9:42 on a Justin Robinson (Lake Katrine, NY/Kingston) jumper, but Iona cut it to two on a 16-4 run when Jan Svandrlik knocked in a three. Monmouth's lead grew back to 13 quickly, as Stewart scored with three seconds remaining in the half to make it 54-41 at the break.
NOTES AND QUOTES
"Tonight, our kids were able to get away from Iona's team. We played really well, we've been needing to play like this and I just told my team 'it is not the coaching at all, it is these kids'." –head coach King Rice
"These guys try to get me the ball so much and Coach Rice has been on me to get the ball in deep. I pushed myself more and told myself to play naturally." –senior center Chris Brady
"It was more satisfaction getting back to ourselves than beating Iona, and finally playing like we are supposed to play. That's what I felt the best about, and Coach Rice challenged a lot of us this week and it's big that we answered his challenges." –sophomore guard Micah Seaborn
-Justin Robinson scored in double figures for the 15th time in 16 games.
-Robinson netted his 1,600th career point at 16:10 of the first half, and moved into fourth all-time by himself.
-Monmouth's 54 first-half points were the most in the opening half this season.
-The Hawks hit 90+ points for the fifth time this season.
-Micah Seaborn tied a career-high with 10 made field goals.
-Four Hawks hit double digits for the fourth time in five games.
-Chris Brady worked into double digits for the first time since the win over Memphis.
-Brady grabbed nine boards for the second time in three games.
-Robinson had seven assists, tying Rahsaan Johnson for fourth all-time.
-King Rice evens his career record at 90-90.
-Monmouth snaps a three-game losing streak with the victory.
-Collin Stewart made the start in place of an injured Josh James.
NUMBERS CRUNCH
-MU limited Iona to 34.4% from the field, including 25% in the second half.
-The Hawks held the Gaels to 27.3% from downtown in the final 20 minutes.
-MU shot 51.6%, hitting 32 field goals, one off a season-best.
-Monmouth forced 16 turnovers.
-The Hawks outscored Iona in the paint 38-14.
-MU outran Iona 12-0 on the fast break.
-The Hawks played in front of a crowd of 3,000+ for the fifth time at the OceanFirst Bank Center this season.
UP NEXT
-Monmouth has a quick turnaround and will play Marist at home on Sunday at 2:00 p.m. on ESPN3