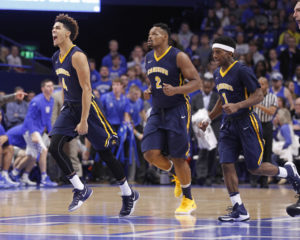 Courtesy of GoGriffs.com
Canisius senior Kiefer Douse posted his first career double-double with a career-high 18 points to go with 10 rebounds, and junior forward Jermaine Crumpton scored 11 of his 14 points in the game's second half as the host Golden Griffins defeated Quinnipiac 83-77 Wednesday night in the Koessler Athletic Center. The win, Canisius' seventh straight, improved the Blue and Gold to 10-5 overall and 3-1 in MAAC play. The Bobcats are 5-9 overall and 2-2 in league games after the loss.
In a game that featured 13 lead changes, Canisius took the lead for good with 8:57 left to play when freshman guard Spencer Foley drilled a 3-point field goal from the far corner to put the Griffs up 61-59. Canisius' lead would get to six at 68-62 with 5:39 left to play, but the Bobcats cut that in half on the power of a 3-point basket by Reggie Oliver with 5:02 left on the clock. From there, Canisius outscored Quinnipiac 9-1 over the game's next 1:51 to take a 77-66 lead with 2:50 left to play. In that run, Canisius got points from four different players, including a 3-point bucket by junior guard Kassius Robertson to start the scoring spurt.
Canisius led by 10 at 79-69 with 1:27 left to play, but Quinnipiac cut that cushion to just four points at 81-77 with 26 seconds left on the clock thanks to a 3-pointer by Alain Chigha. After a Canisius turnover, Quinnipiac missed a 3-point try on its next trip down the floor, and then Robertson and freshman Isaiah Reese hit free-throws late to seal the win for the Blue and Gold.
Douse's 18 points came after he went 7-for-13 from the floor, 2-for-4 from 3-point land and 2-for-3 from the free-throw line. He matched his career-high with 10 boards, and he also was credited with a career-high five steals to go along with four assists in 31 minutes of play. Robertson scored 17 points in the win for Canisius, while Crumpton finished the night with 14 points, four boards, three steals and a career-high two blocked shots. Senior Phil Valenti had nine points and seven rebounds, while freshman Malik Johnson matched a career-high with nine points to go along with five assists and a steal. Reese ended the night with five points and a career-high six assists in the win for Canisius.
Freshman guard Peter Kiss had a team-high 18 points for Quinnipiac in the loss, while fellow freshman Mikey Dixon added 16 points and four assists. The Bobcats shot 44.9 percent from the field and 31.8 percent from 3-point range, but the Griffs were able to turn 17 Quinnipiac turnovers into 21 points. Canisius, which turned the ball over just five times in the victory, shot 41.2 percent from the field, 33.3 percent from 3-point land and 70.4 percent from the free-throw line in the win. Canisius was also credited with 21 assists on 28 makes from the field.
Head Coach Reggie Witherspoon's Postgame Comments
"This was a really hard-fought MAAC game tonight. Quinnipiac is a tough, physical team that really gets going by hitting the glass. We had to fight really hard for this win tonight.
"We have to understand that there's going to be nights like this. We need to learn that we can't allow adrenaline dictate our offense. When we moved the ball and worked it side-to-side, we were pretty good."
"Having a senior like Kiefer [Douse], a guy who has a lot of versatility, it not only makes it tough to guard us, but it provides us with options. Kiefer is very important to this team because he brings so much to the table. We can count on his stability, because he's able to do the little things so well it just makes us better."
Inside the Box Score
• Quinnipiac held a 46-38 advantage in the rebounding battle and the Bobcats outscored Canisius 26-12 in second-chance points.
• Canisius was credited with a season-high 14 steals in the win after registering just one steal in the win over Siena on Monday.
• Eight of the 11 Canisius players that saw time in the game scored at least five points.
Game Notes
• This was the seventh all-time meeting between these two schools, with Canisius holding a 5-2 lead in the series.
• Canisius has now scored 80-plus points eight times this season. The Griffs are 7-1 in those games.
• After starting 0-2 at home, Canisius has now won four-straight at home.
• Robertson has now scored in double-figures 50 times in his career, and his three makes from 3-point land Wednesday night gives him 165 in his career.
• Johnson's five assists extended his streak of games with multiple assists to 14 straight.
Up Next
Canisius will return to the road Sunday, Jan. 8 when the team plays at Iona in New Rochelle, New York. Tipoff for that game is set for 4 p.m. The game will be broadcast live on ESPN3, and the audio call will be on Timeless WECK 1230-AM and 102.9-FM in Buffalo and the Golden Griffin Broadcast Network.