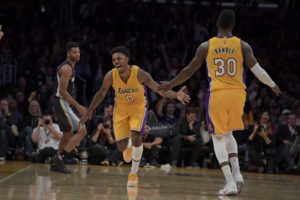 Tuesday's NBA action. 
Los Angeles Lakers 116  Memphis Grizzlies 102
LOS ANGELES – Julius Randle recorded his third triple-double of the season with 19 points, 14 rebounds and 11 assists, and the Lakers (13-25) snapped a three-game skid.
The Lakers last trailed in the game, 32-31 with 8:52 left in the 2nd quarter. Nick Young knocked down a 25-foot three point shot to take the lead.  The Lakers as a team shot 17 of 33 from beyond the arc.
Young and D'Angelo Russel combined for 12 threes and 38 points. Marc Gasol and Mike Conley combined for 43 points as the Grizzlies (22-15) drop their third out of seven games. Troy Daniels (VCU) scored nine points, grabbed two rebounds and collected an assist and a steal in 19 minutes off the bench.
Phoenix Suns 99  Miami Heat 90
PHOENIX – Devin Booker scored a team-high 27 points and dished out four assists for the Suns (11-25). Ty Chandler had his third 20-plus rebound night of the season. Willie Reed picked up his second double-double of the season for the Heat (10-26) with 22 points and 18 rebounds.
Philadelphia 76ers 93  Minnesota Timberwolves 91
PHILADELPHIA – Joel Embiid netted 25 points and grabbed eight rebounds as the 76ers (9-24) picked up their second straight victory. Ersan Ilyasova added 19 points and five rebounds. Karl-Anthony Towns and Zach LaVine combined for 51 points, but the Timberwolves (11-24) dropped their second straight.
Boston Celtics 115  Utah Jazz 104
BOSTON – Isaiah Thomas's double-double with 29 points and 15 assists improved the Celtics (21-14) to  their fourth win in five games. Jae Crowder and Al Horford scored 21 points each in the victory. Gordon Heyward netted 23, but the Jazz saw their four-game winning streak snapped.
Indiana Pacers 121  Detroit Pistons 116
DETROIT – Paul George netted 32 points helping the Pacers (18-18) win their third straight. Jeff Teague and Myles Turner chipped in with 17 points apiece. Andre Drummond and Reggie Jackson scored 20 points apiece, but Pistons (16-21) dropped their third out of five games.
Dallas Mavericks 113  Washington Wizards 105
DALLAS –Harrison Barnes and Deron Williams combined for 46 points to lead the Mavericks (11-24). John Wall scored 27 points to go with eight assists, four rebounds and three steals, but Wizards (16-18) dropped their second straight.
San Antonio Spurs 110  Toronto Raptors 82
SAN ANTONIO – Kawhi Leonard poured in 25 points while collecting four rebounds, two assists, two steals and three blocks as the Spurs (28-7) won for the 11th time in their last 12 games. LaMarcus Aldridge dropped 23 points, grabbed eight rebounds and handed out six assists. All 13 Spurs scored in the game.
Sacramento Kings 120  Denver Nuggets 113
DENVER – Darren Collison scored 26 points, and the Kings (15-19) stopped a two-game skid. DeMarcus Cousins added a team-high 31 points. Danilo Gallinari netted a team hight 24 points as the Nuggets (14-21) dropped their third straight.