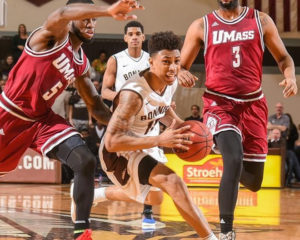 Courtesy of GoBonnies.com
With its veteran backcourt and forward Denzel Gregg leading a poised team, St. Bonaventure won its Atlantic 10 opener on Friday at Massachusetts, 89-77.
Leading for all but one minute of the game, the Bonnies won the game with solid defense, ball control and free throw shooting. They also got 52 points from their backcourt as Adams finished with 29 and Mobley 23. St. Bonaventure held the Minutemen (10-4/0-1) to 42 percent shooting overall including 5-20 (25 percent) from three-point range. The Bonnies got to the free throw line 38 times and made 33, both season highs.
Adams was the catalyst in the first half as he scored 19 points before halftime. After the point guard got into foul trouble in the second half, Mobley picked the slack by scoring 15 points in the frame. Gregg totaled 11 points, seven rebounds and two blocks. Idris Taqqee finished with nine rebounds as St. Bonaventure outrebounded UMass 40-35.
The Bonnies (9-4/1-0) have now won three straight times at the Mullins Center and are 3-0 one the road this year.
How It Happened:
St. Bonaventure got off to a strong start, leading 12-5 at the first media timeout. Josh Ayeni scored both of the Bonnies' first two field goals, and after a Denzel Gregg layup, Jaylen Adams made back-to-back three-pointers. It was a 14-5 lead but UMass responded with a 14-4 run to take 19-18 lead. Zach Lewis came off the UMass bench to spark the run with a pair of buckets after turnovers. It turned out to be UMass' only lead of the day.
St. Bonaventure held a 33-32 lead but closed with a 10-3 run over the final 3:29 of the first half to take a 43-35 advantage into halftime. The Bonnies started the second half just as well as the first, scoring eight of the first 10 points of the frame to push their lead to 51-38 by the 15:27 mark.
Adams' three-point play at the 10:50 mark gave the visitors an 18-point edge at 63-45. The lead grew as large as 19 points and remained in double figures until there was 2:09 left when Chris Baldwin tipped in his own miss to pull UMass within 79-70.
Adams fouled out at the 2:27 mark.
Mobley responded for the Bonnies with a pair of free throws and, following a missed shot by UMass, a drive down the lane that gave St. Bonaventure an 83-70 lead with 1:21 remaining.
From there, the Bonnies closed out the game with free throws. Mobley went 9-10 at the free throw line, Adams was 7-7, David Andoh 6-6 and LaDarien Griffin 6-8. Facing a pressuring UMass team, the Bonnies were poised and committed only 13 turnovers compared to 18 by the Minutemen. UMass entered conference play first in the A-10 in defensive field goal percentage (.384) and fifth in scoring defense (67 ppg).
St. Bonaventure made 43 percent of its shots from the field.
Beyond The Boxscore:
Jaylen Adams now has nine games of 20 points or more this season and Mobley had eight. St. Bonaventure is now 8-0 this season when it leads at halftime. The Bonnies are 7-2 when they outrebound their opponent. In Atlantic 10 season openers, the Bonnies are now 21-17 all-time and 7-3 under coach Mark Schmidt.
Schmidt moved within one win of tying Jim Satalin (156) for second place on the program's coaching wins list. Adams is now seventh all-time at St. Bonaventure in three-pointers with 160. Josh Ayeni and UMass' Brishon Gresham were both ejected in the first half after they tangled going for a loose ball and were issued flagrant technical fouls.
Up Next: St. Bonaventure will return home for a pair of A-10 games at the Reilly Center next week beginning Tuesday, Jan. 3, against Dayton. Tipoff will be 8 p.m.