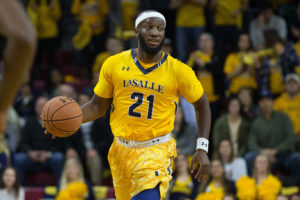 Courtesy of GoExplorers.com
MACON, Ga. – Senior Jordan Price scored 26 points, grabbed nine rebounds and added six assists in his Georgia homecoming to help lead the La Salle University men's basketball team to an exhilarating 98-96, triple-overtime victory over Mercer on Thursday evening. Junior B.J. Johnson added 23 points and 11 boards for the Explorers, who improved to 6-4 on the season.
La Salle led by seven with 2:03 left in regulation and held a 70-65 lead with 10 seconds remaining following a transition dunk from Johnson. Mercer (5-7) responded with a quick driving bucket from Jordan Strawberry then, on the inbounds play, forced a turnover to regain possession.
Trailing by three with 5.6 ticks on the clock, Stephon Jelks received the inbounds pass in the left corner and was double-teamed by a pair of Explorers. With time running down, Jenks took a dribble and drained a contested three-pointer to tie the game with 0.8 seconds left. A desperation heave from senior Cleon Roberts was off the mark as the game moved to overtime.
In the first extra period, a three-pointer from junior Johnnie Shuler opened the scoring before five straight by the Bears gave the home team a 75-73 cushion. With the Explorers still trailing by two with 40.9 seconds left, junior Demetrius Henry knocked down a pair of critical free throws to tie the score. Both teams had empty offensive trips in the final seconds, with Shuler's three-point attempt at the buzzer rimming out.
The second overtime session, Price canned a three on the first offensive trip to again put La Salle in front by three. But Mercer continued to fight back and scored four straight to take a one-point lead. A free throw from the Explorers tied the game, and Price put the visitors in front with a driving basket with under 30 seconds to go. The Bears were able to tie the game again, however, as Demetre Rivers converted in the paint to extend the matchup to triple overtime.
Johnson gave the Explorers another lead to start the third overtime, and a layup from junior Tony Washington bumped the cushion to 89-85 with 3:41 remaining. With the margin at one, sophomore Pookie Powell drained a triple with the shot clock running down to re-up the advantage to 92-88. Strawberry returned the favor for Mercer, knocking down a three of his own to pull the Bears back to within one.
With less than a minute remaining, junior Amar Stukes hit a short jumper to return the lead to three prior to Mercer scoring on its next trip down to put the advantage back to one with under 20 seconds left. Johnson converted two free throws before a solid defensive possession by La Salle forced Holland to miss on a potential game-tying three-pointer. Powell hit two more free throws to help seal the win.
In a game that featured 11 ties and 16 lead changes, La Salle jumped out to an early lead in the first half thanks to the shooting of Powell. The 6-0 guard went 4-for-4 from the field, including 2-for-2 from three-point range, and scored 10 points in the period.
Mercer was undaunted and charged back to take a four-point lead heading into halftime, with Ria'n Howard scoring 16 of his team's 32 points in the opening stanza. The Explorers opened up a seven-point cushion early on in the second half and had two more seven-point leads heading into the final sequence of regulation.
In addition to Price and Johnson, Powell had 20 points and six assists while turning the ball over just once. The Explorers committed just eight turnovers over 55 minutes of action while collecting 21 assists. Strawberry had a game-high 31 points for Mercer while Holland added 27.
La Salle will have a seven-day layoff before opening up Atlantic 10 play at Dayton on Friday, Dec. 30. The game will be televised nationally on CBS Sports Network, with tipoff scheduled for 6:00 p.m.