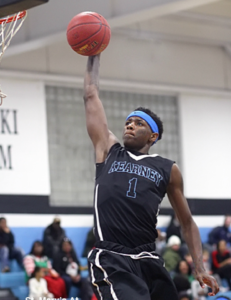 Highlighting some of last week's top performances. 
Rayshawn Boswell — 5-foot-9 Jr. G Monroe Redjackets:  Shows keen court instincts when it comes to making decisions with the ball. Gets more than his share of paint touches and creates shots for himself and teammates. Knows when to use a ball screen or turn it down and beats defenders with either hand. Comfortable in tight spaces and has uncanny knack for slipping passes through opponents to teammates behind the defense. Can knock down a shot from behind the arc, but also is comfortable using his pull-up in the midrange and goes to a floater in traffic. Disciplined defender who doesn't get caught making overplays, tough on the ball and a pest off it running down passing lanes and creating turnovers.
Charles Maurice Brown — 6-foot-3 Jr. F World of Inquiry Griffins: Rugged interior player who possesses a soft touch from 15 feet. Consistently knocks down free-throw line jumpers but can also get to the rack with an economical use of the dribble where he finishes with either hand. Sheds defenders with a thick pair of shoulders. Tough-minded on the defensive end, shows developing footwork to gain post position. A strong rebounder who eats his Wheaties, leads teammates in rebound-and-outlet situations, runs the floor well in transition. Possesses impressive court vision and distributes the ball well out of the post.
Nahziah Carter — 6-foot-6 Sr. G/F Bishop Kearney Kings: With a growing list of highlight-reel dunks it is easy to overlook fundamental footwork that separates Carter from the rest. Comfortable in the post with his back to the basket setting up opposing defenders with a drop step; once between basket and defender can either elevate or move laterally and effectively uses the rim as a shield. On the perimeter, has a lightning-quick first step and attacks the lead foot well, can go either direction and finishes with both hands at the rim. At his best in  defensive rebounding decisions, strong passer who can lead teammates up the floor. At the same time has the ability to go to the dribble and attack end-to-end. Keeps defenders honest and is within range from21 feet. Impressive defender who wants to guard opponent's best player, can shut down a player off the dribble on the perimeter or wall up in the post.
VIEW MORE RON KALASINKAS PHOTOS.
Jiahmere Mitchell — 5-foot-9 So. G  NE Douglass Panthers: Tireless offensive player who comes at opposing defenders with a wide array of options. Streaky shooter from behind the arc who can hit three straight in a blink of an eye, has the ability to extend his range out to 25 feet, (yes 25 feet). Has a step back jumper that he gets off in rhythm from behind the arc…and looks comfortable doing it. Also a crafty passer with above average court vision who sets up teammates when opposing defenses extends. Comfortable using either to beat defenders off the bounce; has an inside-out dribble that freezes opponents. Tenacious defender who plays at the front of the Panthers' zone trap. With quick hands and feet he is a disruption to structure on defense.
Jeenathan Williams — 6-foot-6 So. G/F UPrep Griffins: Smooth left-handed shooter with an above average mid-range game; he is a fierce competitor in the lane. Uses either hand to beat defenders for a stop-and-pop buckets; Can attack the basket with long arms and slight frame; Not to be stopped once in motion he finishes with contact using either hand. Tireless on the offensive glass he shows patience getting defenders in the air before going to the rim. Uses long arms and quick feet on the defensive end to disrupt opposing rhythm and flow, makes quick transition to offense. Willing to get on the floor and win loose balls. Another who eats his Wheaties.
Worth Your Time This Week
Monroe (4-1/2-1) at McQuaid (4-0/4-0) Monday, 7:o0 pm
Early College (2-1/2-1) at Leadership (1-3/1-2) Tuesday, 6:15 pm
Rush-Henrietta (2-1) at Irondequoit (4-0) Tuesday, 7:30 pm
East (6-2/3-1) vs. Monroe (4-1/2-1) (School 33) Thursday, 6:15 pm
Aquinas (2-1) at McQuaid (4-0/4-0) Thursday, 7:30 pm
Pittsford Mendon (4-0) vs. Pittsford Sutherland (2-2) (U of R) Friday, 8:00 pm