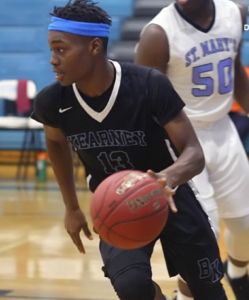 By PAUL GOTHAM
ROCHESTER, N.Y. — They endured a 9-0 run where they did not touch the ball, and successfully debuted a new inbound play. The Bishop Kearney Kings held off the Liverpool Warriors, 65-63 in the third annual Bishop Kearney Christmas Showcase played at Ed Nietopski Gymnasium on Sunday.
Leading by as many as 12 points in the third quarter, Bishop Kearney needed to rally in the fourth. Senior Nahziah Carter netted nine of his team-high 20 points in the final stanza, and the Kings improved to 4-1 on the season.
"Teams go on runs," Carter said. "We just got to stop them and go on our own run, control the game."
Coming out of a timeout with 3:29 remaining in the third quarter, Liverpool switched to man-to-man defense and outscored Bishop Kearney 15-5 to knot the game at 47 going into the final eight minutes of regulation.
"We just needed a change," said second-year Liverpool coach and former Section V standout, Ryan Blackwell. "They were getting whatever they wanted. We came out flat in our zone. I thought in the first half we did a pretty good job moving, but the wings were just not getting out on the shooters. They ran some different sets, so we just needed a different look."
VIEW MORE RON KALASINKAS PHOTOS HERE.
The Warriors limited Kearney to one field goal over their next seven possessions to close the quarter.
"They were jumping all screens," Kearney coach Kevin Goode said. "Trying to keep us from getting to the basket."
Jonah Harder hit a baseline jumper, and Devan Mederios scored a pair of baskets in the lane to cut the BK lead to five at 45-40.
Liverpool's Charles Pride took over from there with a spectacular display of production. Pride was fouled in the act of shooting. When Kearney was assessed a technical foul on the play, the 6-foot-4 shooting guard responded hitting all four of his free throw attempts.
On the ensuing inbound, Pride knotted the score at 47 when he drained a step-back three-pointer from the top of the key as the buzzer sounded to end the third quarter.
Liverpool had possession to start the fourth quarter, and Pride completed the improbable 9-0 spurt and gave the Warriors their first lead of the half with a drive and lay in.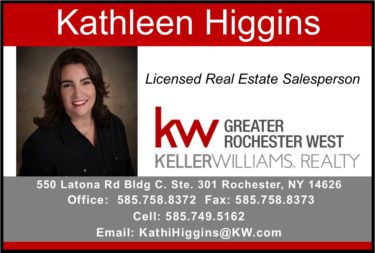 "Without him, we struggle," Blackwell said of Pride who transferred from Christian Brothers Academy (CBA) in Syracuse. "He just makes play. He's a warrior. He gets after it. A Division I talent and we're lucky to have him."
Sheldon Adams converted two of three free throws as Kearney regained the lead. Carter grabbed a defensive rebound and and used a Euro step at the other end for a layup.
"They take charges, so you gotta be ready for that," Carter explained. "At the last moment he tried to take a charge, so I just used a Euro to go past him and got the layup."
But Liverpool responded. Pride grabbed a steal and fed teammate Kyle Butler-Gaffney for a layup and a tie score at 54.
Shykell Brown drove the lane late in the shot clock and went high off the window to give Kearney a 56-54 edge.
"We had to go back to the things we work on in practice," Goode explained. "Somebody hedges, you need to go back to the person screening on the ball or try and split. Then try to move the basketball from side to side, swing the basketball and look to drive."
The Kings led the rest of the way but not without some uneasiness for the home team.
Mederios scored on a putback to cut the lead to four at 61-57, and Liverpool looked poised for a stop when Kearney was forced to call timeout with 45.8 seconds remaining in regulation and one second on the shot clock.
With the ball out of bounds on the left side of the floor above the three-point arc, Kearney's Adams cut from the opposite side and caught an inbound pass below foul-line extended, turned and nailed a triple as the buzzer sounded for a 64-57 BK advantage.
"You send the decoy one way, and then you bring the actual shooter the other way," Goode stated. "I didn't think it was going to work. It was a played that I saw on the internet. We worked on it in practice a couple times. Time came where we needed to use it, and it actually worked."
Carter finished with a two-day total of 38 points as Kearney also defeated St. Mary's (Manhasset) on Saturday 84-43.

Brown scored nine of his 14 points in the third quarter and gave BK its largest at 42-30.  Tyke'r Harley added 10.
Pride finished with 32 on Sunday and a two-day total of 57 points. Liverpool fell to 0-3 on the season. After playing their first game two weeks ago, the Warriors did not take the court again until Saturday when they lost to UPrep, 70-62.
"I told the guys there's nothing to be ashamed about," Blackwell said.  "To come out and play like this is big time for us. Two weeks off is just the way it was set up this year. We started off shaky but came back. These guys played hard."
Kearney travels to Buffalo on Thursday to play St. Joe's (VI). A 7 pm tipoff is scheduled.