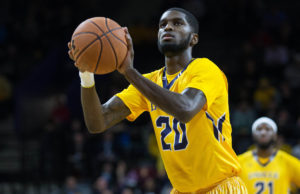 Courtesy of GoExplorers.com
PHILADELPHIA – Redshirt junior B.J. Johnson poured in a career-high 35 points, including 28 in the second half, as the La Salle University men's basketball team withstood a hot-shooting Florida Gulf Coast squad in an 84-80 win on Saturday afternoon at Gola Arena.
Johnson hit 10 of his 16 field-goal attempts, including 3-of-6 from three-point range, and converted 12 of his 14 tries at the free-throw line for the Explorers, who also forced 16 turnovers by the Eagles to partially offset their 12-for-24 (50.0 percent) performance from beyond the arc.
With La Salle leading 7-5 in the opening minutes of the game, senior Cleon Roberts scored five points in a 10-2 spurt that pushed the advantage to double figures at 17-7 with 13:22 left in the first half. Two free throws from Johnson moved the lead to 19-8 less than a minute later, La Salle's largest lead of the period.
The margin remained in double digits at 26-16 at the 7:34 mark following a three-pointer from junior Johnnie Shuler, before FGCU mounted a comeback. Five straight points from Brandon Goodwin reduced the Explorers lead to 34-31, and the Eagles closed on a 13-5 run that tied the contest at 39-39 heading into halftime.
Goodwin and Rayjon Tucker each had 14 points for Florida Gulf Coast, while Roberts led La Salle with eight.
Both teams were extremely efficient offensively in the second half, as the Explorers hit 54.2 percent of their attempts and FGCU shot 48.1 percent, including 6-for-11 from three-point land. A triple from Johnson tied the game at 50-50 with 14:50 remaining, but Zach Johnson knocked down a three to answer and give the Eagles a three-point lead on the next possession.
The contest remained nip and tuck the rest of the way, with FGCU building the biggest lead for either team at 67-61 following two free throws from Tucker with 7:35 on the clock. Johnson responded, however, with three-pointers on consecutive trips for the Explorers to put the score at 69-67.
Trailing by two with 2:15 remaining, senior Jordan Price found Johnson cutting along the baseline for a two-handed dunk that tied the score. After a steal from Johnson, his fourth of the game, on the ensuing possession, the roles were reversed as Johnson found Price for a hoop to give La Salle a two-point lead.
FGCU had a chance to tie on the next offensive trip but missed two free throws, and a jumper from Price went down as he was fouled to up the cushion to 78-74 with under a minute remaining. From there, Johnson hit four straight free throws and converted a game-sealing, fast-break dunk with 6.9 seconds left to put an exclamation point on the win.
Price was the only other player to reach double figures for the Explorers, finishing with 16 points. Redshirt junior Amar Stukes dished out six assists against just one turnover, while classmate Demetrius Henry blocked three shots defensively. Goodwin finished with 26 points to lead the Eagles.
La Salle hits the road for a non-conference affair at Mercer on Thursday, Dec. 22. The game is a homecoming of sorts for Price, who grew up about 90 miles from Mercer in Decatur, Ga. Tipoff is scheduled for 7:00 p.m.