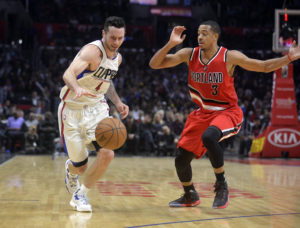 Los Angeles Clippers 121 Portland Trail Blazers 120
J.J. Redick scored 19 points including a pair of free throws with six seconds remaining to seal a back-and forth affair. Trailing by five with 7:18 remaining in the game, the Clippers rallied, and Redick converted three free throws with 4:13 left on the clock to give Los Angeles a lead it did not surrender.
Blake Griffin scored seven of his game-high 26 as the Clippers jumped out to a 38-27 lead after the first quarter.
Portland outscored Los Angeles 33-18 in the second quarter. C.J. McCollum (Lehigh) netted 11 of his team-high 25 as the Trail Blazers took a 60-56 lead into the locker room. McCollum finished the night nine of 17 from the floor including two of four behind the arc. He converted all five of his free throw attempts.
Griffin and DeAndre Jordan grabbed 12 rebounds apiece, but the Trail Blazers on the rebounding battle, 42-38. Chris Paul handed out 14 assists and scored 21 points for Los Angeles which improved to 18-7.
Damian Lillard scored 24 points and grabbed eight rebounds for Portland (12-14).
Sacramento Kings 116 Los Angeles Lakers 92
Demarcus Cousins netted a game-high 31 points to go with 16 rebounds and five assists as the Kings used a 39-13 third quarter advantage to send the Lakers (10-17) to their seventh straight defeat. Darren Collison scored 20 points on 7-of-11 shooting for the Kings (9-15).
Dallas Mavericks 112 Denver Nuggets 92
Wesley Matthews hit five of seven three-pointers and finished with a team-high 25 to lead Dallas (6-18). Nikola Jokic tallied 27 points off the bench for Denver (9-16). Jammer Nelson (Saint Joseph's) scored two points and handed out two assists for the Nuggets.
Houston Rockets 122 Brooklyn Nets 118
James Harden paced Houston (18-7) with 36 points and 11 assists. Brooklyn falls to 6-17.
Miami Heat 112 Washington Wizards 101
Goran Dragic scored 34 points and handed out five assists for Miami (8-17). Washington falls to 9-14.
Toronto Raptors 122 Milwaukee Bucks 100
Demar DeRozan converted all 15 of free throw attempts and finished with a team-high 30 for Toronto (17-7). Giannis Antetokounmpo scored 30 for Milwaukee (11-12).
Indiana 110 Charlotte 94
Paul George and Myles Turner scored 22 apiece to lead five Pacers (13-12) n double figures. Marco Belinelli netted 14 off the bench for Charlotte (14-11).