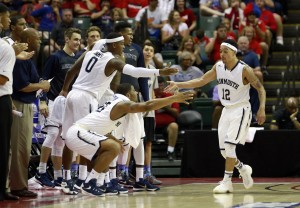 Courtesy of MonmouthHawks.com
MEMPHIS, TN – Monmouth came back from down 10 at the half to beat Memphis at FedEx Forum Tuesday night, 82-79 behind 21 points apiece from Justin Robinson (Lake Katrine, NY/Kingston) and Je'lon Hornbeak (Arlington, TX/Grace Prep/Oklahoma). The Hawks have now won eight games in a row and tie the best start in program victory with nine wins in 11 games.
Trailing by nine with 11:33 to go, Monmouth went on a 13-3 run to take the lead, capped by Austin Tilghman's (Wilmington, DE/Archbishop Carroll) three-point play on the break at 8:16, the Hawks' first advantage of the second half. A back and forth five minute stretch saw Hornbeak put MU up three at 2:43, only to have Jeremiah Martin convert a three-point play a 2:03 to tie it at 77. Markel Crawford gave the Tigers a one-point lead with 1:20 left, but with 14.2 to play, Robinson was fouled driving right and knocked in both foul shots. With the Hawks up one, Monmouth trapped Martin in the corner and he lost the ball out of bounds. Hornbeak was fouled and hit both, and Pierre Sarr (Dakar, Senegal/Roselle Catholic) deflected away the ensuing inbounds pass to secure the win.
NOTES AND QUOTES
"I felt like we were right there the whole time, we were getting good shots and they hit some tough ones. We made them work, and then we ramped up the defense and got it back close. We have the older team so you should expect our team to execute down the stretch, and we were very fortunate to get that win." –head coach King Rice
"We have a very talented club, and we are not a high-major program, that's just what it is. Anytime a school like ours beats a high-major club it is big time. We should be so happy, but we still should be surprised." –head coach King Rice
"I looked around when I was going to the line and said to myself 'You've been here before', and nobody else looked nervous so why should I be?" – Justin Robinson on his game-winning foul shots
-Tonight marked Monmouth's first-ever win over a school currently in the American Athletic Conference.
-Monmouth recorded its sixth win over a high-major program in the past two seasons.
-King Rice is now 1-1 in the state of Tennessee.
-The starting lineup of Justin Robinson, Micah Seaborn, Je'lon Hornbeak, Pierre Sarr and Chris Brady started for second game in a row.
–Josh James returned after missing the last two games with injury.
-The last time James came off the bench was last December 28th at Army West Point.
-Tonight marked Monmouth's first ever game against Memphis, and first win.
-The game was played at the FedEx Forum, home of the NBA's Memphis Grizzlies. It was the first game MU played in an arena also used for an NBA team since 363 days ago, when the Hawks took down Georgetown at the home of the Washington Wizards, the Verizon Center.
-The crowd of 7,831 was the third largest that the Hawks played in front of this year.
-Monmouth tied a program record with its eighth consecutive win, last accomplished last season.
-The Hawks also tied the 1990-91 team for the best start in school history at 9-2.
-Monmouth now plays just one game in the next 13 days (12/20 vs. Princeton) before traveling to the University of North Carolina on 12/28.
NUMBERS CRUNCH
-King Rice is now 88-87 all-time at Monmouth, his first time over .500.
-Je'lon Hornbeak set career-highs in points with 21 and three pointers with six.
-Justin Robinson scored over 20 points for the third time this year and 27th time in his career.
-Justin Robinson netted his 1,500th career point on a jumper at the 16:58 mark of the first half.
-Robinson hit two threes to move him into sixth place all-time by himself in three pointers.
-The Hawks are now 5-0 this season against head coaches in their first year with the program.
-Robinson is now tied with William Lewis for fifth all-time in scoring (1,517).
-Robinson played 37 minutes and is now in the top-10 in minutes played all time.
-Robinson led all first-half scorers with 13 points, and worked into double digits for the 10th time in 11 games this season.
-The game marked the fourth time Monmouth trailed at halftime this season, and the largest deficit at the break at 10 points (45-35).
UP NEXT
-Monmouth has a week off before returning home to play in-state rival Princeton at home on December 20 on ESPN3 at 7:00 p.m.