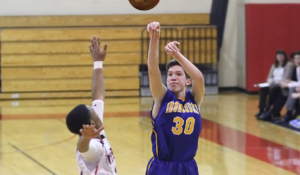 One full week of high school boys' basketball action is in the books. Taking a look back at the individual performances of note.
Robert Davis: 5-foot-6, sophomore, guard — Wilson Magnet Wildcats. Wilson has stumbled out of the gate  (0-3) which might diminish Davis's effort. Don't be fooled. Wilson started slow last year before reaching the A2 finals. Davis ran the point for that team. Low center of gravity allows him to effectively use ball screens to create space on the perimeter which he takes advantage getting the ball quickly from floor to release point. Fearless off the dribble, is comfortable working in and out of traffic. Tough to knock off the ball. Difficult to contain off the bounce, developing perimeter threats among teammates will only increase his impact. Wilson hosts McQuaid on Tuesday (6 pm) and plays at World of Inquiry, Friday (5:45).
Tah-jae Hill: 6-foot-1, freshman, guard — Hilton Cadets. Possesses a sturdy build which he uses to get in the lane where he can finish with either hand. Drove baseline three dribbles with his right and finished in traffic. Later bailed out a teammate when he caught the ball in the corner and went to his left three dribbles to set up a free throw-line jumper. On the perimeter has already refined his stroke into a repetitive motion. Look forward to watching him develop his range. Plays responsible defense. Matched up with Batavia's leading scorer (Tee Sean Ayala) for much of the night. All this and he plays with a calm demeanor that makes one do a double take to confirm he is a FRESHMAN. Hilton hosts Irondequoit on Tuesday (7:15) and Rush-Henrietta, Friday (7:15).

Zion Morrison: 6-foot-1 senior, guard — East High Eagles. Prototypical East High guard, active and aggressive on defense and makes seamless a transition from defense to offense. Uses quick, lateral movements to cut down passing lanes and disrupt opposing offenses. At his best going off the dribble, finishes at the rim with either hand. Brushes off contact while elevating. Fierce rebounder who is strong enough to corral caroms in traffic and make outlet passes to teammates, yet has a sixth sense knowing when to leak out in transition. East hosts Early College on Tuesday (6:15) and travels to Edison, Friday (6:15).
Antwan Odom: 6-foot sophomore, forward — Batavia Blue Devils. Willing defender who uses impressive wing span off the ball to get in passing lanes and cut down vision of opposing ballhandlers. At his best when the ball comes off the iron. Good motor, keeps moving when the ball is in the air. Initial block out rarely contains him. Uses basketball IQ to distinguish between offensive rebounding situations, willing to set up teammates with inside-out passes. Range out to three-point arc. Listed at 165. Wonder if he was wearing ankle weights when stepping on scale. Already is aggressive inside. Long and lanky frame leaves room for growth. Batavia play at Pittsford-Mendon on Wednesday (7:15) and hosts HF-L, Friday (7:15).
Zach Stenglein: 6-foot senior, guard — Irondequoit Eagles. Well-balanced offensive arsenal complimented by range out to 24 feet. Easy to overlook his above-average court vision when he drops 34 like he did last week at Wilson. Finds teammates in transition and off the bounce in half-court sets.  Confident off the dribble, can go with either hand to create mid-range shots. High release point allows him to shoot with accuracy over ball screens. High basketball IQ, picks his spots well. In his wheel house running an up-tempo Eagle offense. Irondequoit plays at Hilton on Tuesday (7:15) and hosts Webster-Schroeder, Friday. (7:15).
VIEW MORE RON KALASINKAS PHOTOS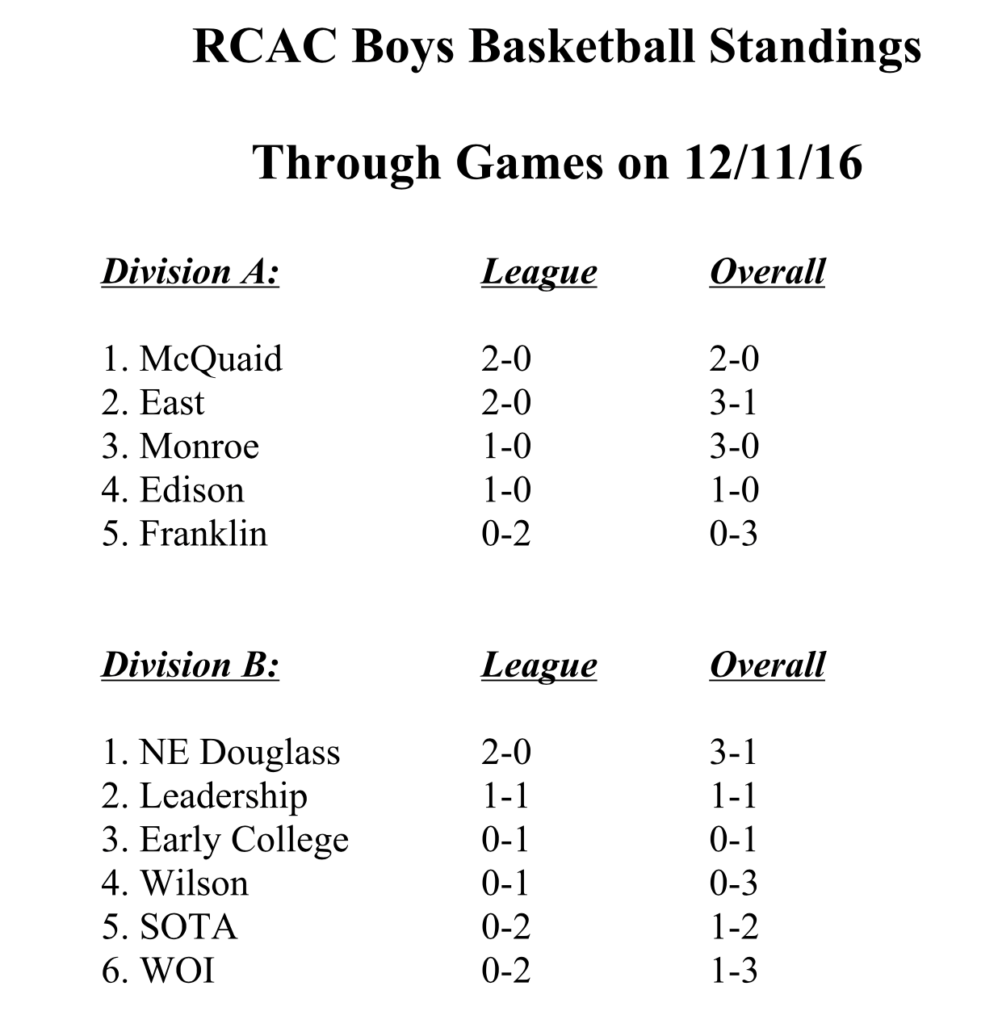 Worth Your Time This Week
Irondequoit at Hilton Tuesday, 7:15
These two teams could leave the twine torn and frayed. After last week's win over Batavia, Cadets coach Troy Prince said about his team's approach: "We're going to try to outscore right now." Irondequoit finished with 79 in their opening night win.
World of Inquiry vs. Monroe Wednesday School 33, 6:15 
Monroe junior guard Rayshawn Boswell is averaging 28 through three games.
Canandaigua at Pittsford-Mendon, Friday 7:15 
Mendon puts their undefeated record (3-0) on the line against the 4-1 Braves.
Another great win by the boys! 63-61 over Greece Odyssey, keep it rolling boys!!! @jeremy26jacob with 17pts. #Powers with 17pts!????

— Mendon Basketball (@mendonbball) December 10, 2016
St. Joe's (VI) at Aquinas Saturday, noon
State champs play their first home game of the season.
5 days till the Li'l Irish #HomeOpener against St. Joe's this Saturday. #DefendtheTitle pic.twitter.com/rjwBVuSeSf

— AQBoysHoops (@AQBoys_Hoops) December 12, 2016
East vs. Niagara Falls (VI) Saturday Bishop Kearney Classic, 3:00
How far can Windell Lucas and Zion Morrison take East?
UPrep vs. Liverpool (III) Saturday Bishop Kearney Classic, 5:30 pm
Jeenathan Williams leads UPrep.
St. Mary's-Manhasset at Bishop Kearney Saturday, 7:15
East vs. St. Mary's-Manhasset at Bishop Kearney Classic Sunday, noon
UPrep vs. Niagara Falls (VI) at Bishop Kearney Classic Sunday, 1:45
Liverpool (III) at Bishop Kearney Sunday, 3:30