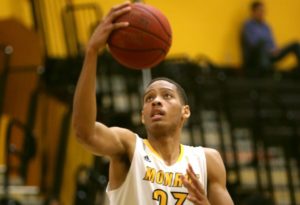 By PAUL GOTHAM
ROCHESTER, N.Y. — Outside, wind whipped snow across the parking lot. The forecast called for an arctic chill, but Monroe Community College men's basketball coach Jerry Burns was reminded of his golf game.
Tournament MVP Marquis Gilbert scored 16 of his game-high 29 points in the second half as the Mohawk Valley Community College Hawks rallied to defeat the Tribunes, 84-72 and claimed the 24th annual Pete Pavia Memorial Scholarship Basketball Tournament on Sunday.
Less than 24 hours after an impressive double-digit triumph, the Tribunes modest four-game-winning streak ended with a resounding thud.
"Coaching basketball is a lot like my golf game," Burns lamented. "One day you shoot par, the next day you shoot a hundred."
Gilbert connected on 11 of 13 shots from the floor including all four of his attempts from behind the arc. The freshman guard scored six points and collected two steals, one rebound and an assist in the game's final eight minutes to lead the Hawks back from a six-point deficit.
"He's a very talented player," Mohawk Valley head coach Matt St. Croix said. "When he makes up his mind that he wants to play, he can play with anybody. In the first half he got it going a little bit with hitting some jump shots. The real key down the stretch was him getting to the basket and just making good plays.
MVCC's Jason Puello knotted the game at 64 with an old-fashioned three-point play. Gilbert followed with a pull-up jumper in transition to give the Hawks a lead they would not surrender.
Gilbert scored 15 points and handed out three assists in MVCC's 76-65 victory over Brookdale on Saturday. On Sunday he finished with three assists, four steals and two rebounds.
"He's a freshman, and he's had a rocky first semester in terms of some games he's really good, and other games he makes freshman mistakes," St. Croix added. "Today was a great way to end his first semester. He made really good decisions and took us on his back when things weren't going so good."
The Hawks outscored Monroe, 28-8 to end the game.
"In order to go on a run you got to get some stops," St. Croix stated. "We switched to zone. I think it kinda got them out of their rhythm a little bit. The point guard (Omar Williams) was really doing a good job of getting in the lane and just in transition getting all the way. We just said 'let's get back in zone, keep him in front of us.'
"We did a good job of getting out to their shooters and make it tough. We got some stops. Then on the other end I thought we were patient enough to let the play develop and were fortunate to make some shots."
MVCC finished the game hitting 11 of 25 (44.1 percent) attempts from behind the arc. Burns credited their long-range success with the ability to get into the lane off the dribble.
"We got dribble penetrated on 34 times," Burns noted. "What dribble penetration does is it opens up threes. Our scouting report was to keep them off the three-point line. When you get beat on dribble penetration, now help has to come. When help comes, they made the extra pass. They shot the hell out of the three.
"They ball screened us every single time. We tried different things. We tried to switch it. We tried to go under it. We tried to blitz it. Our effort from a couple of our guards was very poor."
The Tribunes scored on 20 of 39 first-half possessions in Saturday's win. On Sunday, MVCC limited the Tribunes to two field goals over eight-plus minutes to end the game.
"Their aggressiveness, their will to want to win was much more evident to me than our guys," Burns said. "They just played harder. Not that our guys didn't play hard. We didn't play as hard as them. They were really, really hungry.
Malik Colvin-Seldon led the Tribunes with a career-high 22 points and grabbed a game-high 12 rebounds. The sophomore forward scored nine of 11 points to stake MCC to a six-point advantage mid-way through the second half.
Colvin-Seldon leaked out ahead of the defense and took a long lead from Williams for a layup. After a Williams bucket, he hit a pair from the free throw line. The Cincinnati, Ohio native finished an old-fashioned three-point play. He followed that with a block on the defensive end leading to a rebound and putback on the other end. Monroe led 62-56.
But Colvin-Seldon fouled out with more than three minutes to play.
"Malik was the only one out there today who tried to do what we asked of him," Burns said. "The minute they would get the corner on a ball screen, the opposite side guy would help. Now you're in trouble. Malik had to carry a lot of that load and he got in foul trouble because of dribble penetration."
Gilbert connected twice from behind the arc,and Jarell Cowell once to give Mohawk Valley a 9-0 advantage to start the game.
Monroe responded.
Williams hit a catch-and-shoot three. Destin Blunt converted a pair of free throws. Then Williams connected again from long range. Blunt scored in transition, and Holden Redparth gave Monroe its first edge of the game with a drive from the wing in traffic. The Tribunes led 13-11.
Colvin-Seldon keyed a 9-0 run to end the first half. The sophomore took a high-low feed from Tremaine Carter and finished underneath. After a free throw Monroe trailed 33-30. Carter cut the deficit to one with a jump hook in the lane, and Colvin-Seldon used an up-and-under move to give MCC a 34-33 edge at half.
Redparth scored 15 points and handed out three assists. Williams added a dozen. Blunt came off the bench and chipped in with 11.
Cowell scored 16 for MVCC. Isaiah Brinkley and Joe Sullivan tallied 11 apiece.
The same two teams will meet on Valentine's Day at Mohawk Valley.
MVCC's William Gilbert and Cowell joined Marquis Gilbert on the All-Tournament team. MCC's Redparth and Colvin-Seldon earned the nod. Lackawanna College's Gil Benz rounded out the team.
Monroe travels to play in the Cecil College Holiday Classic next weekend. The Tribunes open against the host Friday night. A 7 pm tipoff is scheduled. Cecil edged Monroe, 94-92 earlier this season in the finals of the Murph Shapiro Tournament. Both teams reached the 2016 NJCAA Division II Tournament. The Tribunes edged Cecil in the seventh place game, 93-78.
Pete Pavia, a longtime Division I basketball official from Rochester, was extremely active in charity efforts for Camp Good Days and Special Times until his death in 1992 at age 54.
All proceeds from the tournament will be put toward the Pete Pavia Memorial Scholarship Fund which was established to provide financial assistance for student-athletes to attend MCC.