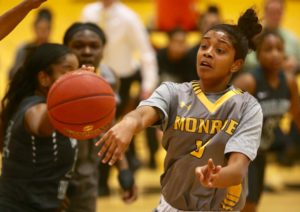 By PAUL GOTHAM
ROCHESTER, N.Y. – A full lineup combined with a little revenge proved the difference Sunday afternoon.
Tournament MVP Torrie Cash registered a game-high 20 points, and the Monroe Community College Lady Tribunes defeated the ASA College Avengers, 79-46 to claim the 24th Annual Pete Pavia Memorial Scholarship Basketball Tournament on Monagan Court.
Cash connected on seven of 10 attempts from the floor including five of seven behind the arc. The freshman guard hit two triples as the Lady Tribunes outscored ASA 15-6 late in the second quarter to take a nine-point lead into the locker room.
"We played defense and followed coach's game plan," Cash said. "Once we did that it made the difference."
With the game tied at 16, Jaynelle Robinson converted a rebound and putback. Erica Abitante found Kathryn Kanhoye in the lane for a bucket, and Cash hit from the left corner for a 23-18 Monroe lead.
Sierra Green completed an and-one off an inbound.
"I cut through the lane and Torrie saw me," Green explained. "I just went up from there. That gave me a boost since I wasn't hitting any of my shots."
Kanhoye hit two from the free throw line, and Cash pushed the lead to 13 when Green found her on the break for a pull-up trey.
"Sticking to our system," Green said of the run. "Once we stick to our system then things start falling. Eventually everything started picking up."
MCC led 31-18.
Monroe produced on its first six possessions of the second half to put the game out of reach.
Abitante hit a catch-and-shoot three from the left corner to start the stanza. Lanay Rodney scored on a pair of inbound plays. Cash finished a layup, and Abby White nailed a 3-ball for a 44-22 MCC lead.
"Box out, rebound and defend," Cash said referring to the team's mindset coming out for the third quarter. "We were executing on offense and sticking to coach's game plan."
ASA defeated MCC, 70-52 on November 19th.
"We stopped them on the inside because we had Jay back," Cash noted. "That's the difference between the first game and this game."
"We remembered losing to them by 18 in New Rochelle," Green stated. "So we didn't want to fall back and give them any chances. We came out stronger, and we eventually started playing our game.
Abitante and Rodney scored 10 points apiece.
Robinson pulled down a team-high 10 rebounds to go with eight points.
Green handed out a game-high six assists and added eight points. White scored five points and dished out five assists. Kanhoye tallied six points.
MCC collected 20 helpers on 27 made field goals.
The win was the fifth straight for Monroe (10-2).
Nyasia Franklin notched a double-double for ASA with 13 points and 11 rebounds. Caitlin Roche chipped in 13 points and six rebounds. Adriana Cordoba came off the bench to score 10 points and corral eight boards.
Robinson, who was injured in the pre-season, returned to the lineup this weekend. White broke her nose and missed three contests before returning to action in the first game of the tournament. Rodney sat out Saturday's contest.
Green and Robinson joined Cash on the All-Tournament team. Cheyenne Clark (Mohawk Valley CC), Roche and Franklin rounded out the all-tournament team.
The Lady Tribunes do not play until January 6th when they travel to take on Union County College.
Pete Pavia, a longtime Division I basketball official from Rochester, was extremely active in charity efforts for Camp Good Days and Special Times until his death in 1992 at age 54.
All proceeds from the tournament will be put toward the Pete Pavia Memorial Scholarship Fund which was established to provide financial assistance for student-athletes to attend MCC.