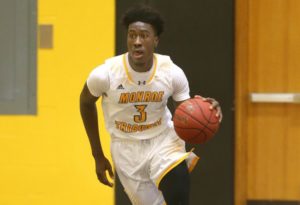 By PAUL GOTHAM
ROCHESTER, N.Y. — Devonte Dixon and Malik Colvin-Seldon paced an inside-outside attack, and the Monroe Community College Tribunes held off the Lackawanna College Falcons 91-79 in the first round of the 24th annual Pete Pavia Memorial Scholarship Basketball Tournament on Saturday.
Dixon connected on seven of 12 attempts from behind the three-point arc including four of seven in the second half to lead the Tribunes with 23 points.
"Tonight we played outside-in," Monroe head coach Jerry Burns said. "Usually we play inside –out. As the game went on, the two offset each other."
Dixon's sixth trey of the night gave Monroe a 57-52 lead, but Lackawanna rallied to take a brief edge. Dixon's next triple gave Monroe a 73-67 lead. It was a lead they would not surrender.
"I would say tonight he probably took one bad shot," Burns noted. "You don't take bad shots if other people make good decisions. You take bad shots when other people make bad decisions. If our guys are open, and you make the right pass then it's a good shot. When they're open and you don't make the pass, and then you do finally make the pass there's a good on him that leads to a bad shot."
With Dixon stretching the defense, Colvin-Seldon took advantage in the lane scoring seven of 10 Tribune points during one stretch for a 76-72 lead with less than two minutes remaining.
"He was hitting," Colvin-Seldon said of his teammate, Dixon. "The attention was on him. Once he hit a couple threes, I was open and I was just doing what coach tells me to do. I just let the game come to me."
Colvin-Seldon took a wing feed from Kewan Platt and used the rim to shield off a defender for a reverse layup. After converting one of two from the free throw line, Omar Williams got in the lane and dished to Colvin-Seldon who again used the rim as protection for lay in.
"They had to push out to the three, and that opened him up in the inside," Burns said of the sophomore forward. "He's a very difficult matchup. He's long. He can score."
Colvin-Seldon hit three of six shots in the second half and scored eight of 13 points.
"If you don't double down on him, he's really difficult to contain in the post because of his athleticism," Burns added.
Monroe finished the game with 23 assists on 29 made field goals. At the same time, the Tribunes committed just nine turnovers.
"We've seen some positive things," Burns said of his team which lost three straight and four of five in November. "It's been nice. You go back to last month we weren't putting an emphasis on defense and an emphasis on sharing the basketball. We didn't have that at that time."
Saturday's win was the fourth in a row for MCC.
"We had five or six guys in double figures," Burns added. "You're going to win some games like that."
Monroe won at Lackawanna on December 3rd, 84-67.
"We played very well down there," Burns stated.  "I was worried about our guys being flat because we had already played them and it was just last week.
"They're a good basketball team. They're well-coached. They've got all the players. They can shoot it. They got bigs."
Williams added 16 points and six assists for Monroe.
Platt had 15 points and three assists. Holden Redparth chipped in with 12 point and four assists.
Colvin-Seldon pulled down a game-high 10 rebounds. The Falcons grabbed 49 boards to 30 for Monroe.
Cartier Talford led Lackawanna with 23 points on eight of 17 shooting.
Gil Benz scored 19.
Trailing six in the closing moments of the first half, Williams finished a runner in transition and the Tribunes went on to outscore the Falcons 9-1 going into the locker room. Mahammado Kajakhe converted a pair of free throws. Dixon drilled a three from the left corner, and Kajakhe tapped in a Tremaine Carter attempt. Monroe led 42-40 at the break.
Monroe (7-4) will play Mohawk Valley Community College in Sunday's final. A 4 pm tipoff is scheduled on Monagan Court.
Pete Pavia, a longtime Division I basketball official from Rochester, was extremely active in charity efforts for Camp Good Days and Special Times until his death in 1992 at age 54.
All proceeds from the tournament will be put toward the Pete Pavia Memorial Scholarship Fund which was established to provide financial assistance for student-athletes to attend MCC.