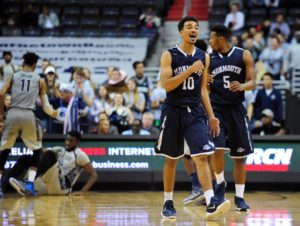 Courtesy of MonmouthHawks.com
WEST LONG BRANCH, NJ – Monmouth put three in double figures and never trailed as the Hawks won their seventh game in a row over Army West Point on Saturday night, 81-71. Chris Brady (Greenlawn, NY/Harborfields) added a team-high seven rebounds while Micah Seaborn (Fort Worth, TX/Prime Prep Academy) scored a game-high 20 points.
Monmouth led by eight at the half before jumping to a lead of as many as 20 in the second half. Army cut that lead to seven but the Hawks capped it late with a Brady three-point play and a basket from Seaborn to secure the seventh win in a row.
NOTES AND QUOTES
"We competed extremely hard tonight, we weren't as disciplined as we wanted to be but we played so hard we made it hard on them to execute." –head coach King Rice
-Monmouth used a different starting lineup for the fourth time in 10 games.
-Pierre Sarr made his first career start.
-Monmouth is now 7-3 all-time against Army West Point.
-Tonight marks the first game that Justin Robinson fell short of double figures in scoring.
-Monmouth has won seven games in a row, the most since winning eight a year ago.
NUMBERS CRUNCH
-The Hawks are now 4-0 at home this year and 5-0 the last two years in non-conference home games.
-MU is now 21-18 all-time against the Patriot League.
-2016 Monmouth Hall of Fame inductees Miles Austin (football) and Brad Brach (baseball) were honored at halftime after their induction last night.
-Chris Brady and Je'lon Hornbeak both came within one field goal of their career-high in points.
-Monmouth won 81-71 for the second straight game.
-Monmouth held Army to 33.3% shooting.
-The Hawks have now won five games by 10 points or more.
-MU is now 8-2, the best start since the 1990-91 team went 9-2.
-King Rice's career record moves to .500 at 87-87.
-MU blocked eight shots, the most in a game this season.
-The Hawks are now 7-0 when leading at the half.
UP NEXT
Monmouth takes on Memphis Tuesday night at FedEx Forum in Memphis, TN. Tip is set for 9:00 p.m. Eastern on ESPN3.