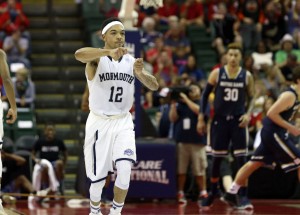 Courtesy of MonmouthHawks.com
STATEN ISLAND, NY- Justin Robinson netted 33 points and the Hawks held Wagner to 29 second-half points as Monmouth won its sixth game in a row, 81-71 at Wagner Tuesday night. Monmouth trailed by as many as 12 in the opening half but took a lead before the break, eventually outscoring the home team by 13 in the final 20 minutes.
Wagner went up by 12 with 10:06 to go in the first half, but a frantic four minute stretch saw Monmouth cut into that, paced by a trio from deep from Micah Seaborn (Fort Worth, TX/Prime Prep Academy). Five consecutive Robinson points and a pair of free throws from Diago Quinn (New York, NY/Lake Forest Academy) gave Monmouth the lead. MU opened the second half on a 20-8 run to go up 10 on a Pierre Sarr (Dakar, Senegal/Roselle Catholic) layup at 10:28 and never looked back, going up by as many as 12 before ultimately winning by 10.
NOTES AND QUOTES
"In the second half, we came out and tried to establish our defense. We forced two quick turnovers and got the game going at the pace we love." –head coach King Rice
"Coach Rice wants me to shoot more, he wants Micah to shoot more, and he wants Je'lon to shoot more. I need to get my shots and keep them shooting and where they need to be, and tonight I guess it was just my night." –senior guard Justin Robinson
-Monmouth is now 36-24 all-time against Wagner.
-The Hawks are now 5-2 against Northeast Conference schools since exiting the league.
-The only teams Monmouth has competed against more in program history than Wagner is Fairleigh Dickinson (70) and LIU Brooklyn (65), with tonight being the 60th contest against the Seahawks ever.
-The only year MU and Wagner have not met as Division I opponents was Monmouth's first season as a DI school, 1983-84.
-Robinson netted 30+ points for the second time in his career, scoring 33 after putting in 36 at Siena last February.
-Robinson knocked in six threes for the second time in his career, doing so after hitting six at home against Marist last season.
-Monmouth has won six games in a row, the most since stringing together eight last year.
-The lineup of Robinson, Seaborn, Hornbeak, Stewart and Brady started together for the first time ever.
-Josh James missed his first game since the 2015 MAAC semifinals vs. Canisius as a sophomore, a stretch of 44 contests.
-MU is 7-2 for the first time since 1990, when Monmouth opened the year 9-2.
-Diago Quinn led Monmouth in rebounding for the first time this year with five.
NUMBERS CRUNCH
-MU limited Wagner to 32.1% shooting in the second half and 16.7% from downtown.
-Robinson made his 103rd career start to pass Fernando Sanders for eighth all time.
-Collin Stewart's 94th career made three-pointer ties him with Jason Krayl for 17th all time.
-Monmouth notched 80+ points for the fifth game in a row.
-The Hawks made 29 foul shots, the most this season.
-Robinson's 11 free throws was the most made by a Hawk this year.
UP NEXT
Monmouth hosts Army West Point on Saturday night at 7:00 p.m. on ESPN3. 2016 inductees of the Monmouth Hall of Fame include Miles Austin (football) and Brad Brach (baseball), both of whom will be honored that night.