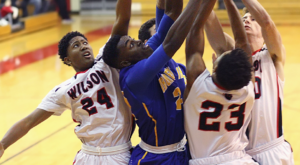 By PAUL GOTHAM
ROCHESTER, N.Y. — With the clock running down in the first half, Zach Stenglein was forced to rush a shot from behind the three-point arc. The attempt didn't have much of chance. It was one of the few times during the evening that the senior point guard looked out of his comfort zone.
Stenglein registered a career-high 34 points, and the Irondequoit Eagles took their season opener with an 82-65 victory over the Wilson Wildcats in non-league action, Tuesday night.
Stenglein connected on eight of 17 shots from the floor including seven of 12 from behind the three-point arc.
"I just got open shots," he said. "We worked hard in practice against their 2-3 and man-to-man, getting open shots. It just came to me. I didn't  force anything. We played well."
Stenglein handed out two of his seven assists on the night as the Eagles jumped to an early 11-0 lead. He found Alex Goldsberry on the break with a diagonal pass ahead of the defense for a layup and then fed Jeremiah Zitz with an inbound pass for another tally.
"We have a lot of experience back," said 31st-year coach Chris Cardon. "We did some good things tonight. We had some guys play pretty well."
Stenglein got himself started from the floor with a back-to-back triples. He drilled his fourth trey of the night over a ball screen at the top of the key to give Irondequoit its largest lead of the half at 39-21.
"We know he's good," Wilson coach Brendan O'Toole said. "We knew he'd score. We didn't know he'd score quite that many. He shot the ball great tonight."
The Eagles produced on 19 of 37 first-half possessions to take a 43-29 lead into the locker room.

"I know we can score," Cardon noted. "But man our defense. We need so much work on it. We're going to pay a little attention to it tomorrow. I'm more of a defensive guy, and we didn't see much of out there."
After showing some zone defense midway through the second quarter, Wilson gave Irondequoit a heavy dose of 2-3 in the third. Wilson held the Eagles scoreless for seven straight possessions and eight of nine.
The Wildcats also adjusted their approach on offense and started attacking the paint.
VIEW MORE RON KALISINKAS PHOTOS HERE.
"We were just playing around the perimeter and not looking to attack," O'Toole noted. "We knew we had to get it in there. Whether we got a drive out of it or have the defense collapse and now we could kick out and get some wide open threes instead of contested threes. That did help us."
At the same time, Robert Davis heated up. The sophomore point guard knocked down a pull-up jumper on the break. Then he used a hesitation dribble to set up a drive and bucket from the wing. His three-pointer cut the lead to seven, and Mehki Walker converted two free throws to make it a 54-49 game.
"We've done that twice where we've been down double digits at the half and battled back," O'Toole said referring to Wilson's season opening 57-53 loss to Pittsford-Sutherland. "They're playing hard. We just got to learn how to play a consistent 32 minutes."
"They don't give up," Cardon said of the Wildcats. "Sutherland was up 15 points, and they ended up winning by four. Wilson does not quit. They're tough in the open court. I thought we had good size on them, but we just couldn't rebound consistently."
Stenglein answered with a catch-and-shoot three over the zone. He started the fourth with a pull-up jumper from the free throw line.
"They forced up on the point," Stenglein explained. "So when we put Tysean Sizer, our other point guard, up top, he could drive and kick to me for open threes."
Sizer added 16 points for Irondequoit. Sophomore Gerald Drumgoole chipped in with 14.
Davis led Wilson with 18 points. The 5-foot-6 guard scored 23 in the season opening loss. Walker added 11. Keavaughn Harris-Hill also had 11.
Irondequoit travels to Greece Arcadia Friday night. A 7:45 pm tip is slated.
Also on Friday Wilson hosts College Prep for a 7:30 pm start.