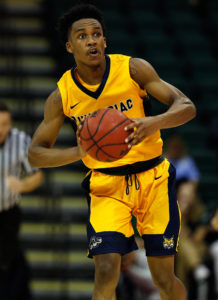 Courtesy of MAACSports.com
Player of the Week
Tyler Nelson, Fairfield
Jr., 6-3, G, Bradford, MA/Central Catholic
Tyler Nelson averaged 30.5 points per game in a 1-1 week for the Stags, including a career-high 38 points in a 76-67 road win against Rider. Nelson made six of his 10 three-point field goal attempts and all 10 of his free throws. With the score tied at 22-22, Nelson scored 11 straight points to help Fairfield take control, 33-26, and the Stags never lost that lead. He followed up with 23 points in an 80-73 loss to Siena, leading the team in scoring. For the week, Nelson shot 48 percent from the floor (19 of 39), 42 percent from three-point range (8 of 19) and 94 percent from the free throw line (15 of 16). Nelson also added five assists and five steals against one turnover in 61 minutes played (30.5 per game).
Rookie of the Week
Mikey Dixon, Quinnipiac
Fr., 6-2, G, New Castle, De/Sanford School
Dixon averaged a team-high 16.0 points on 54.2 percent shooting off the bench to help Quinnipiac split its opening MAAC weekend. He led the Bobcats with 18 points on 7-14 shooting in a 91-72 loss to preseason favorite Monmouth, and then had 14 points in 19 minutes on 6-10 shooting in a 77-63 win over Marist. Dixon came up big in a key part of the second half of the Marist win – after the Red Foxes cut a 19-point lead down to just five, Dixon scored six straight points to restore an 11-point lead with 12:06 left, and the Red Foxes were unable to get closer than seven the rest of the way.